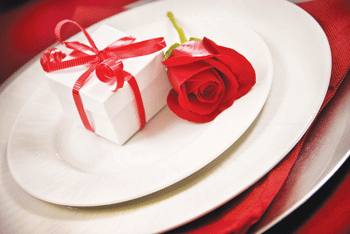 Valentine's Day is just around the corner and the downtown merchants and restaurateurs are doing everything they can to make it easier than ever to impress, please and woo that special someone.
In addition to romance, downtown wants to share some good fortune with those who could use a hand this year. Through Valentine's Day merchants will be collecting canned goods and nonperishable items for Second Harvest Food Bank. Look for the red heart in the window and take your donations inside.
While there is plenty to do, here are just a few fun ideas if you are at a loss on how to impress your date.
Show up at their door with a traditional sweet treat. The Chocolate Lady is offering confectionery delights that will satisfy most anyone's sweet-tooth. Get a box of chocolate covered strawberries for $20. Call her at 480-2000 and place your order while there is still time.
Just Desserts is offering Valentine's Day treats like chocolate covered strawberries, heart shaped cookies and red-velvet cake, as well as many other goodies that will impress your sweetheart. Give them a call at 860-2253. They are accepting advanced orders.
Then treat your Valentine to a carriage ride through historic downtown. Rides are available from 1-8 p.m. Feb. 12 and last about 20 minutes. Tickets are $15 per person if you don't mind sharing the carriage, (kids under 12 are $5) or book a private ride for $50. Call City Center Gallery & Books at 678-8899 to make your reservation.
From there, check out one of the many deals that the local restaurants have for couples.
Circa 1800 is offering specials on Feb. 12 and 14 for a three-course dinner and wine fl ight. Discount movie tickets are included in the price. Give them a call at 568-4725 to make a reservation or get more details.
Blue Moon is celebrating Valentines Day with fondue — for two. A cheese fondue entree to share followed by a round of chocolatey fondue goodness for dessert.
For $50 Lido's is offering an appetizer, two entrees, two glasses of wine and a dessert. They've got dancing and entertainment later in the evening, too.
Enjoy a laid back dinner at Haymont Grill where a surf and turf dinner for two costs $34.95 and includes a salad, potato and dessert. For more information, give them a call at 484-0261.
Stop by Huske Hardware for a dinner of salad. N.Y. Strip steak, a side, dessert and wine or champagne — for two. This special will run you $49.99.
Pierro's is having a sweetheart of a special, too. It costs $59.99 and includes wine, appetizer, salad, an entree and dessert for two.
Hang around downtown and dance the night away or check out the Cameo Arthouse Theater. They are having a special showing of Blue Valentine, which earned awards in 2010 at the Independant Spirit Awards, the London Film Critics Association and the Hollywood Foreign Press Association. Call the theater for show times at 486-6633.
Adventurers seeking something different for their sweethearts may want to consider Zipquest. Just off Ramsey Street, Zipquest was named one of USA Today's 10 great zip lines and it's right here in our own backyard. It costs $79 per person and is an adventure you won't soon forget.
Then head home with a nice bottle of wine to enjoy the rest of the evening. Bob & Sheree's Beer & Wine Shoppe has his and her baskets fi lled with wine and chocolate — Sweetheart baskets for the ladies and Lionheart baskets for gents. Baskets start at $50. Mention downtown's "Have a Big Heart" program and receive $5 off.
Of course these are just a few of the options for a fun Valentine's Day date. Check out pages 18 and 19 and see what else is going on downtown.