After a long and oddly white winter, it is at last once again time for spring to make an appearance. An iconic image of the long awaited season would be fl owers, but an upcoming show is highlighting a lovely little plant that adds some color to the winter white, camellias. On March 5, The Fayetteville Camellia Club will host the 65th Annual Camellia Show.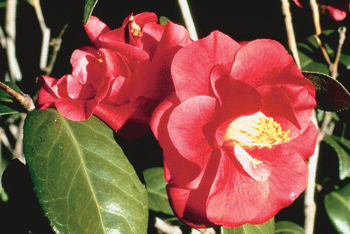 Jack Dewar, co-chair of the event, Camellia Club member and fi ve-year camellia enthusiast, says that they expect to have more than 850 blooms for the event. Growers from places such as Georgia, Virginia and all over the southeast bring their fl owers in to compete for prizes. The show will also offer camellias for anyone who would like to buy a plant, and seminars to educate anyone interested in growing them as well.
"Camellias are unique to the southeast, and to the coastal areas around Louisiana, Texas and then to California, up the coast. So, we are in a unique position in Fayetteville with a long tradition of growing camellias," explained Dewar, who also recommended the collection of more than 300 fl owers at the Botanical Gardens for anyone curious to see the flowers.
Camellias are beautiful, though surprisingly simple to grow according to Dewar.
"Once you get them planted they require very little. They like shade, some varieties that grow in the fall tolerate the sun. The big deal is that they bloom all winter if they aren't frozen," he said.
Unfortunately the snow and ice this season hasn't been the best for these fl owers, but it's still expected to be a magnifi cent show. When asked about the frosts potential affect on the show Dewar said, "It may mean that we will have less blooms grown outdoors. You can grow them in green houses, that's what people who are very serious about them do, and that's why we will always have a nice show."
"The next couple of weeks look promising," he added.
The annual Camellia Show is being sponsored by the local Fayetteville Camellia Club that has monthly meetings, and is open to anyone interested in the flowers. They often have guest speakers, seminars and participate in workshops to learn about the flowers.
"We show people how to grow them, how to prune them, how to propagate them. Take little cuttings of branches, and turn them into camellia plants," Dewar said in reference to the subject matter of the monthly meetings.
The show will be held at Methodist University in Reeves Auditorium on March 5 and 6. The show will run from 12-4 p.m. each day. People who wish to enter their blooms from their back yard need only to bring them on Saturday from 7 to 10 a.m. for registration. From 10 a.m. to noon, the flowers will be judged by trained judges from the America Camellia Society. There are cash prizes for the winners, and the American Camellia society will have a seminar on winning blooms past and present all on Saturday between 12 and 4 p.m.
The show is free and all are welcome to attend.