For most Americans, it's nearly impossible to make it through four years of high school without having at least one healthy dose of William Shakespeare.
Of all of his famous works, the tragedy of Romeo and Juliet seems to be the one that more frequently appears in educational curriculums across the country. For those of you who cannot get enough of the world's most famous love story, you're going to love what's coming to our area. On the other hand, if you aren't familiar with this timeless-tale (where have you been?) read further. Your opportunity to catch up with us is coming and you don't even have to read it!
The Russian National Ballet, which has performed to sold-out audiences nationwide, is returning to Givens Performing Arts Center (GPAC) on Thursday, April 14 to perform its unique spin on Shakespeare's classic tragedy. The story is one of forbidden love, as the children of rivaling families meet, fall in love, then succumb to untimely deaths.
The story is one full of romance, fear, murder and suicide.
The Russian National Ballet was founded in Moscow in the late 1980s during the transitional time of Perestroika (Soviet Union reconstruction period). It consists of nearly 50 dancers well-known for their performances of classical ballet. Its principal dancers hail from the upper ranks of some of Russia's most renowned ballet companies and academies.
When asked about the popularity of past ballet performances, Tasha Oxendine, marketing director for GPAC responded, "We have hosted the Russian National Ballet on several occasions. We have also welcomed the Moscow Ballet and the St. Petersburg Ballet.
"Our patrons enjoy the ballet and the performances are very well received. We also have a good number of parents who bring their daughters or little girls to see the performances. Last year we actually had a number of little girls who wore their ballet tutus to the performance," she continued. "It is very special for us to see the excitement in their little eyes as they watch such a regal performance on stage for the first time."
For those unfamiliar with GPAC, Oxendine explained, "We are the premier theatre in Southeastern N.C. We offer the Professional Arti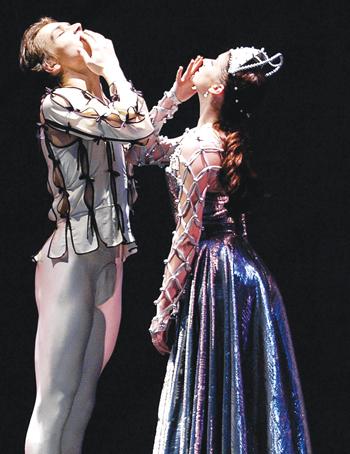 st Series which includes the Broadway and More Series, The Nostalgia Concert Series, the On Stage For Youth Series, and The Distinguished Speaker Series. Our Broadway series includes the Off-Broadway tour. We work to keep ticket prices affordable.
"For some of the shows you may see some of the same actors that were on stage in Broadway," she explained. "This season we welcomed The Color Purple and Spring Awakening. Both were huge Broadway hits and well received here at GPAC. Next season is going to be grand as well. The line-up will be released in the summer."
Tickets for the show are: $30, $25, $15 and $12 for children and students and can be purchased at the GPAC box offi ce at 910-521-6361 or 800-367-0778. More information can also be found by visiting their website at www.uncp.edu/gpac.
PHOTO: The Russian National Ballet, which has performed to soldoutaudiences nationwide, is returning to Givens Performing Arts Center (GPAC).