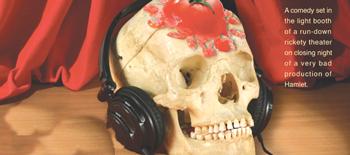 Each season Gilbert Theater treats the community to plays that run the gamut in theme and content. So far, this year's works have included The Rocky Horror Show, A Christmas Carol, Dateline Greensboro and Long Day's Journey into the Night. Next in the line up is Headsets, written by William Missouri Downs and directed by Gilbert Theater's own Elysa Lenczyk. The play opens June 2, and runs Thursday to Sunday through June 19.
Once a stage manager at Gilbert Theater, Lenczyk brings some insight and perspective to the play that only a techie can offer and appreciate.
"I was the stage manager for four years at Gilbert. I ran the lights, I did the sound … there is just so much in a small theater that needs to be done. Volunteers weren't there to do it, so it kind of fell to me," said Lenczyk. "So, when the play got offered to me, being that it takes place in a small light booth in a theater, it was comical. I think the fact that I know the whole perspective of that end of the theater is one of the things that also appealed to me about directing this play."
A farce about technical theatre, Headsets takes place in the light booth of the Chicago-Ensemble-Repertory-Group-Theatre-Project on the final night of the company's doomed production of Shakespeare's Hamlet.
Ross and his stepfather Charlie are the main characters. Like Claudius and Hamlet, the two have a lot of issues between them. It is while they are running the light board for the production that they attempt to work on their relationship all the while dealing with problem after problem with the play — and hilarity ensues.
Listen in and find out what really goes on behind the scenes as production and tech-crew headsets buzz with comical banter and snarky comments.
UNC Pembroke student, Rakeem Lawrence plays Ross. Steve Bates, a favorite on the local thespian scene plays Charlie. Also included in the cast are Laura Kannengieszer as Shannon, Chris Brown as Garry Cooper with Schubert/Dick's voice being played by Paul Wilson.
"Everyone is doing a fabulous job," said Lenczyk. "I am just thrilled with the cast and I think the community is really going to enjoy this production. Plus, this is the fi rst comedy that Gilbert has done in a while They did Lysistrata, I think, last season and it was an ancient Greek classic. This is a little more mainstream a little bit more relatable for the audience."
Anyone who has been to a Gilbert Theater production can tell you that they can pack a lot theatrics be it comedic, dramatic or you name it, into an intimate space and they do it with a sense of dedication to the community — to make it a better place.
"With the Gilbert,we use local talent," said Lenczyk. "I think that is a big part of what makes the productions so special. The community can come out and see their friends and neighbors doing something to bring enjoyment to the community.
Visit www.gilberttheater.com for ticket prices and more information.