Up & Coming Weekly heard from The Treblemakers recently. Here is what they have to say for themselves and their place in the local music scene.
UCW: Who are the band members and what instruments they play?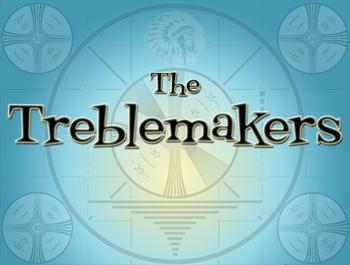 TM: Doug Skipper plays guitar and sings vocals, Sean Anderson also plays guitar and sings for us. Bob Quintano is our bass/vocals, while Roger Manning plays the drums.
UCW: Give us a brief history les-son on the band. When and where did you get started?
TM: The Treblemakers band is a diverse group of local musicians from dif-ferent parts of the United States. We all now live along the North Carolina coast in New Hanover, Pender and Brunswick counties. The band formed early in the summer of 2010. We are currently performing regionally and playing a split format of electric blues and early classic surf. We also pepper the sets with a few eclectic songs from other genres. Thus far the format has been very well received! Our two guitar line-up along with a dynamic and rock solid rhythm section pro-vides a powerful, lively sound. As a live band we strive hard to perform dynami-cally and with a lot of energy, but we also manage our volume very well. We also do our part in promoting the band and advertising our shows. So come on out to one of our gigs, meet the band and get ready for some high-energy blues and surf! We know you're going to dig the many timeless surf classics we perform and our brand of lively electric blues is some of the best you'll hear!
UCW: How did the band get its name?
TM: Our guitarist Sean Anderson came up with the name. Our "surf sound" is slathered with reverb and treble, hence The Treblemakers.
UCW: How would you define your music?
TM: High energy and fun! It's fun to play and fun for the patrons to dance party and listen to.
UCW: Who are your favorite bands/influences on your music?
TM: Lawrence Welk, The Ventures, Floyd Cramer, Dick Dale, Minnie Pearl, Link Wray, The Man.
UCW: Do you write your own music and where does that inspiration come from?
TM: We do! Most of The Treblemaker originals are rooted in old school re-verb saturated surf, spaghetti western sound tracks and spy movie music.
UCW: If you only had two words to describe your band what would they be?
TM: Electric Americana! (That's our band slogan btw.)
UCW: What are your hopes/goals for the future of your band?
TM: Our immediate goal is to continue providing high-energy top-notch and fun gigs regionally. We plan to record an original album in the very near future comprised of well written Surf & Instro style music.
UCW: Where do you see the band five years, 10 years from now?
TM: Five years from now we will be THE Surf/Instro band in North Carolina! 10 years from now who knows, but we'd love to tour Japan or Denmark?!
UCW: Where can Fayetteville music lovers check you in the near future?
TM: July 16 (Saturday) @ The Black Cat Lounge, 2918 Fort Bragg Rd, Fayetteville, N.C., and online at www.reverbnation.com/thetreblemakerssurfandblues and www.facebook.com/pages/The-Treblemakers/174913405862136.