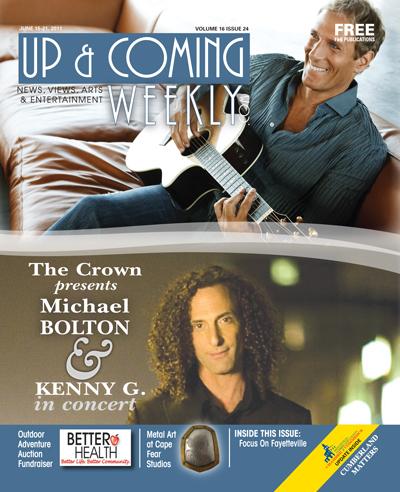 One is uptight East Coast, the other laid back West Coast, but between the two of them, they manage to make some beautiful music.
We are talking, of course, about Michael Bolton and Kenny G, two prolific and multi-platinum artists who will make a stop in Fayetteville on Saturday, June 18.
The two performers, both known for their smooth sounds, and at one time long locks, will perform some of their greatest hits, and introduce the audience to some of their new music during the show.Bolton, who is a prolifi c songwriter, is promoting the release of his upcoming album — Gems: The Duet Collection, which features Bolton in collaboration with some of today's top artists including Rascal Flatts, Seal, Chris Botti and Eva Cassidy.
Bolton is known for his soulful voice and poignant lyrics, his timeless style, charm, good looks, and, more recently, dancing for those who saw him on the hit television show Dancing With the Stars. During his musical career, he has garnered two Grammys for Best Pop Male Vocal Performance, six American Music Awards and a Star on the Hollywood Walk of Fame. As a songwriter, he has earned more than 24 BMI and ASCAP Awards, including Songwriter of the Year, nine Million-Air awards, and the Hitmakers Award from the Songwriters Hall of Fame. His music has been recorded by more than 100 artists, ranging from Conway Twitty to Kanye West. Some artists who have recorded Number 1 singles by Bolton include Laura Branigan, Kiss, Barbar
a Streisand and Cher.
But he is probably best known for his own recordings of hits such as "That's What's Love Is All About," "How Am I Supposed to Live With You," which earned him his first Grammy, "How Can We Be Lovers," "Soul Provider," "When a Man Loves a Woman" and "Time, Love and Tenderness."
Kenny G, born Kenneth Bruce Gorelick, is a Grammy-winning, adult contemporary and smooth jazz saxophonist. He is the biggest selling instrumental musician of the modern era, having sold more than 75 million albums.
Kenny's introduction to jazz music came from The Ed Sullivan Show. After hearing a performance on the show, he picked up the sax at the age of 10 and has been playing ever since. His first job as a musician was as a sideman for Barry White's Love Unlimited Orchestra while he was still in high school.
Following graduation from high school, he attended the University of Washington in Seattle, wher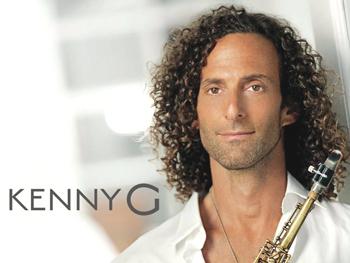 e he studied accounting and graduated Magna Cum Laude, but his heart was set on performing.
He signed with Arista records in 1982, and has been recording and touring since then. His biggest album to date is Breathless, which is the number one best selling instrumental album ever, with more than 15 million copies sold.
An interesting tidbit is Kenny's record in the Guinness Book of World Records. He earned his spot for playing the longest note ever recorded on a saxophone. Using circular breathing, he held an E-flat for 45 minutes and 47 seconds.
So grab someone you love and head down to the Crown for an evening of smooth vocals and even smoother notes. The show begins at 8 p.m.
Tickets for the concert range in price from $35 to $85, and can be purchased at all Ticketmaster outlets and online at www.atthecrown.com. Visit the website for more information.