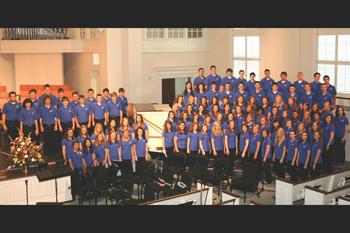 What's actually more difficult to receive than an invitation to sing at Carnegie Hall? An invitation to sing at the National Cathedral in Washington, D.C.
But on Monday, June 20, 112 members of the Snyder Youth Choir, a ministry of Snyder Memorial Baptist Church in Fayetteville, will travel to the nation's capital for their performance at the Washington National Cathedral on Friday, June 24 at 6:45 p.m. in a very special capacity.
"It's a pretty big opportunity," said Larry Dickens, director of the youth choir. And it's a pretty big deal. Their performance is part of the 14th Annual Nation's Capitol Festival of Youth Choirs sponsored by YouthCUE, "a national organization that promotes youth choirs across the country," Dickens said.
"YouthCUE encourages youth choir ministry in the church and community through festivals, seminars, newsletters and networking. This is the second year that this festival has invited an honor choir, so we are participating as the 'Spirit of Cue' honor choir, which means we will open the festival as the honor choir for a 25-minute concert, and that will be followed by a full grand concert by the festival choir of about 250 singers," he explained.
The Snyder Youth Choir will be under the direction of Dickens, with Joy Cogswell, assistant director, as accompanist. Associate Director Dr. Robert Williams will also conduct. Members of the National Symphony will accompany the festival choir, an interdenominational group made up of choirs from across the country.
The six-day festival takes place June 20-25, 2011, at Western Presbyterian Church, Washington, D.C., and the Washington National Cathedral.
"The National Cathedral is where funerals for heads of state are held. Ronald Reagan's funeral was held there," Dickson said. "It's an Episcopal church, but it was designed to have a place where national events could be held."
Part of this very special national musical event is the world premiere of a piece commissioned by Snyder Memorial Church in memory of Billy, Kathy, Connor and Cameron Maxwell.
"It is a commissioned anthem to honor all four of the family members who passed away in November 2009," said Dickson. "This will be the premiere performance of this anthem. It's never been performed before, and the full festival choir will be premiering it."
Written by Dan Goeller, the anthem is titled, "I Have Overcome the World" and is based on John 16:33, the first scripture read at the Maxwells' memorial service.
In addition to performing, the choir members will also have plenty of time to play tourists during their stay.
"We're going on Monday, June 20, and will be there for the entire week, rehearsing Monday through Friday mornings," Dickson said. "Afternoons will be free, and they'll be doing some touring in the D.C. area — the monuments, the Smithsonian museums. They'll be giving a concert on Wednesday night in Baltimore, Md., at the Helping Up Mission, a shelter for homeless folks who are dealing with addiction. We went there about eight years ago, so they'll be making a return visit. They'll be leading a chapel service for the overnight guests. On Thursday, they are going to Ford's Theatre for a production."
Dickson noted that support for the choir's performance has been very generous.
"The church is paying about 50 percent of everyone's expenses, and some students are receiving scholarships from our church and community so that many would be able to attend," said Dickson. "The participation costs for each student are more than $900 for the week. We've had tremendous support from the church, church members, and the Connor and Cameron Maxwell Scholarship Fund. At this point, we think between 200 and 300 people from the Fayetteville community will be attending the concert — in addition to the ones who are singing."
The Snyder Youth Choir is one of the largest church youth choirs in North Carolina. The members have appeared as guests with the Fayetteville Symphony and state and international festivals, denominational conventions and are featured each year in six performances of Fayetteville's Singing Christmas Tree. Ensembles from the choir have performed in England, Switzerland and Trinidad and Tobago. This June, the Snyder Youth Choir can add one of the more elusive performance venues and a world premiere to its impressive list of musical accomplishments.
For more information about Snyder Youth Choir or the Nation's Capitol Festival of Youth Choirs, contact Larry Dickens at (910) 484-3191 or larryd@snydermbc.com, or visit www.snydermbc.com.