Local soldiers are the focus of the newest exhibit gallery at the Airborne and Special Operations Museum. A Legacy of Army Service: Tar Heels 1940 to Present, is a temporary exhibit that opened in mid-June.
The exhibit complements the opening of the North Carolina State Veterans Park over 4th of July weekend. The park, located across the ASOM parking lot, commemorates a veteran's journey before, during and after service. The exhibit does the same.
Many North Carolinians, nicknamed Tar Heels, share a rich legacy of service that embodies the army values. This exhibit honors these men and women. It particularly highlights soldiers with airborne and special operations connections. Also recognized are North Carolina Army National Guard and Army Reserve units including the 30th Heavy Brigade Combat Team (HBCT) headquartered in Clinton and the 824th Quartermasters based out of Fort Bragg.
The most striking part of the exhibit sits quietly near the back wall, and it doesn't look like much at fi rst, just a two-sided, dark, wooden rack strung with 10 rows of silver-colored metal. It's not behind a rope or a glass case. Unlike other exhibits, it's meant to be touched, which is when it jingles and chimes and reveals not solid rows of metal but tightly-packed, thin, metal "dog tags."
Like most people, Cpl. William Watson, who is stationed at Fort Bragg, ran his hand down a line of tags when he saw the display.
Hung alphabetically and by confl ict, the first one is stamped with a name, "Abernathy Jacob L" and the fi ght, "World War II." He's the fi rst of nearly 10,000 of the dog tags, each representing a North Carolina soldier killed in confl ict between World War II and May 2011.
"It definitely brings a lot of perspective," Watson said. "It's a part of history that's right there in your hands. It makes it seem very human. Every soldier wears dog tags, so it's a part of them. It feels somewhat connected."But not just those North Carolinians who sacrifi ced all are highlighted in this unique exhibit. There are also uniforms, weapons, a military Jeep and interesting tidbits relating to the service of Tar Heel soldiers.
One display estimates that there were, in September 2010, about 765,900 military veterans currently living in North Carolina.
"I think it's (the exhibit is) long overdue," said former Army Ranger and current China Grove resident Keith Childers, who was visiting the museum with his family for Father's Day.
"With Fort Bragg being right here in North Carolina and a lot of other installations … This is something for my children, to bring them and show them what I can, of some of what I've done."
Posters throughout the exhibit single out 22 past and present state heroes who played a wide range of roles in the Army. Sure, most people will recognize Tarboro native Gen. Henry Hugh Shelton's picture, but through the exhibit they can also learn about people like Fayetteville resident First Sgt. Tanya Michele Krieger, who served from 1979 to 1999, and whose display hangs right there next to the general's.
Autryville resident Lawrence Gambino said the dog tag exhibit was the stand out item for him, as a Vietnam veteran who was drafted in the '70s.
"I've never seen anything like it before," he said.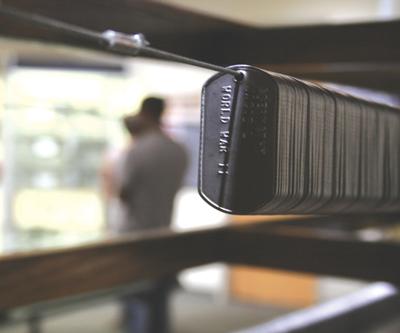 His son, Lawrence Gambino Jr., called the dog tag exhibit "almost a memorial."
"But it's more realistic," Gambino Jr. said. "To see things a soldier would carry with him day-in and day-out through his Army career, it's more symbolic to see something like that."
The ASOM is located in downtown Fayetteville and open from 10 a.m. to 5 p.m. Tuesdays through Saturdays, noon to 5 p.m. on Sundays, and closed Mondays.
Photo: A display of 10,000 dog tags signifying North Carolinians who have lost their lives since World War II serves as a moving memorial at the exhibit at the ASOM.