Orange County Chopper fans, now is your chance to see Paul Teutal, Sr. and his crew work their magic in person. On Friday, Aug. 5, at the Florence Civic Center in Florence, S.C., Teutul and company are planning a bike build-off and concert that is sure to get your motor running.
The show is about more than just performing though, it is about connecting with the audience and drawing them into the experience, too.
"It starts off with our Orange County Chopper (OCC) band. They open up and play some songs and then introduce me and generally I ride out on a P.O.W. bike or one of our theme bikes," said Teutal. "We bring lots of T-shirts and Frisbees and we sign them and throw them out into the crowd. I try to get the audience to interact with me, and the guys who are involved in the show. "
Then the bike build-off begins. There are two teams; each one builds a bike on stage and whoever finishes their bike first is the winner. Once the bike is completed, the teams have to start it up and burn the tire out on the stage to win. And, it all has to be done in one hour.
While the music is playing and Teutal is entertaining the crowd, feel free to check out the several bikes that will be on display.
"We are bringing a bunch of bikes that we've done on the show," said Teutal. "Then we have a bike that we've built — there is a raffle and somebody at the show wins that bike. Sometimes we build a "greenie," which is an old school bike, and sometimes we build one which is called an "original," which is more of a chopper. I am not really sure which type of bike we will be building for this event, but either one, they are equally nice."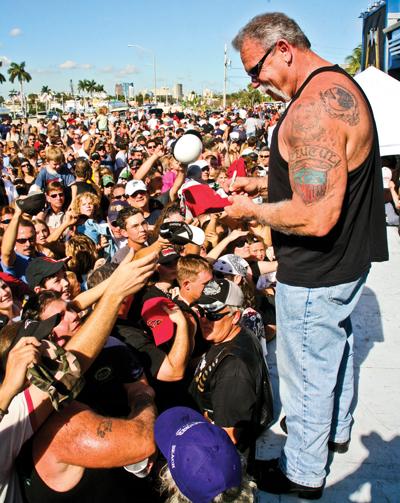 A big supporter of the military, Teutal is hoping for a chance to see some service members at the show and is looking forward to entertaining them, too.
"I think that it is well known that we are very involved with the military and I think that for them to be able to come down and have some regular interaction with me and the OCC band would be good — I think that would be exciting for those guys, too."
Even though the OCC crew is busy doing shows on the road, it has not slowed them down at all in reaching their goals and growing as a company. They just signed on for another season of American Chopper and continue their work as reality performers and cutting edge custom-bike builders.
"I think that we area always into the next level, so innovation is what we strive for," said Teutal. "Every time we do a bike we try to incorporate innovation and eventually we want to be able to build bikes that represent the times we are living in, you know? Like in the auto industry — if they are building electric cars or cars that run on ethanol or cars that run on batteries, we want to match that technology in what we do."
It's quite a difference from where he started. Back in the early '70s it was Teutal, his welder and a pick-up truck. Success hasn't changed him though, in fact, he says he's grateful for the chance to work hard and get ahead.
"I still feel the same way I did when I was in that welding truck 40 years ago, you know what I am saying?" said Teutal. "Only now I am enjoying the things that I could not enjoy back then."
The bike build/concert begins at 7:30 p.m. Tickets are $25-$35 and can be purchased at Ticketmaster.com or by calling 800-745-3000.
Photo: Motorcycle enthusiasts need to jump on their bikes and make the short ride down to Florence to check-out the crew of American Chopper in action on Friday, Aug. 5.