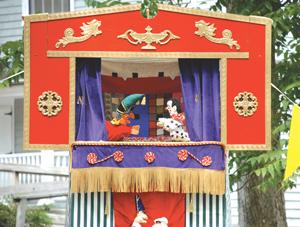 Take a journey back in time to the colonial period on Sept. 10 from 10 a.m. to 5 p.m, with the Museum of the Cape Fear Historical Complex as it hosts this year's Festival of Yesteryear.
"Museums educate and preserve the past. This means making sure it's been handed down so that each new generation learns about the colonial period and the beginnings of this country," says Leisa Greathouse, the museum's curator of education.
This is precisely what the Festival of Yesteryear accomplishes with its 18th century impersonators; colonial past times and live shows that represent the lifestyle of this era.
"There are a variety of things going on," said Greathouse. "The re-enactors will consist of people representing Scottish Highlanders, who fought mostly on the side of the loyalist, and people who dress up and represent the Patriots. There will also be some British employed Hessians."
The impersonators will entertain with small-arms demonstrations, and will talk about the signifi cance of their flintlock muskets and their uniforms.
Aside from the re-enactors, there will be a variety of hands-on activities for children in what is called "Apprentice Alley." These activities will consist of making tri-corner and mop caps, coloring Betsy Ross flags, doll making and creating rebus puzzles.
"These were typical past-times for Colonial men and women," explained Greathouse.
As visitors participate in these hands-on activities they will be given Colonial script that can be spent at the Museum Mercantile for a souvenir.
"It's kind of like Monopoly money because it's pretend," said the curator, "but it's just to get an idea of thinking about how 200 years ago people had shillings and pounds when we were still an English colony."
While the Colonial script and admission to the festival are free, there will be food vendors on site that will have drinks and snacks available for purchase.
At 12 p.m. there will be a live Punch and Judy puppet show performed by local puppeteer, Frank Byrne, and the stage event will be storytelling by Ron and Brooks Gulledge. The festival will also feature stocks, which served as a form of punishment. This will not only demonstrate what it felt like to go through this at the time, but it will also serve as a great photo-op for visitors.
While the Festival of Yesteryear takes place on the grounds of Arsenal Park, the Lafayette Celebration will also be held on the same day at Festival Park. The two committees have gone in together to provide visitors with a trolley that will take them back and forth from one park to the next throughout the day.
"We hope people will take advantage of that," said Greathouse, "and come prepared to spend a whole day in the greater downtown area and enjoy these Colonial themed programs."
For more information, call the museum at (910) 486-1330 or visit the website at www.museumofthecapefear.ncdcr.gov.
Photo; Visitors to the Museum of the Cape Fear will be asked to step back to a simpler time and enjoy entertainment like a puppet show during the Festival of Yesteryear.