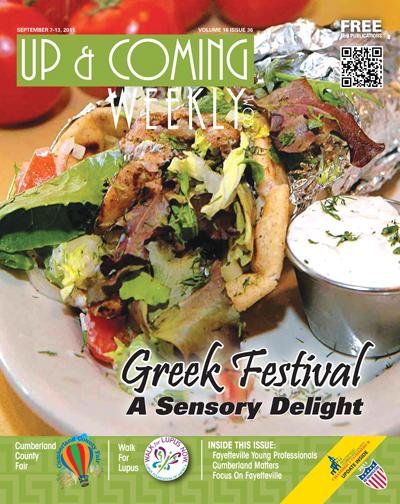 Philoxenia. It means friends of strangers. It's a Greek word that perfectly describes the Hellenic community, specifi cally the Fayetteville Hellenic community. Just ask Kelly Papagikos. She is married to Father Papagikos, who serves the Sts. Constantine and Helen Greek Orthodox Church on Oakridge Avenue.
"We've lived in many different Greek communities," said Papgikos. "This is by far the most generous and giving church we have been a part of. The congregation is constantly working, together and as individuals, to give back to the community. They not only give financially to charitable groups and organizations, they give of their time as well and are always ready to embrace the community."
It's this philosophy of hospitality and kindness that drives the Greek Festival (and the church's many other activities and events) each year. As preparations begin for the festivities, which will run from Friday Sept. 9 through Sunday, Sept. 11, there are already scores of people laboring, preparing to invite the community into their lives, their church, their culture, their hearts.
It starts on Friday with extended hours from 11 a.m. to 10 p.m. Along with the new hours, the activities for the day are expanded, too.
"We have opened up Friday to the community and to the schools," said Papagikos. "Education is so important, and we continuously want to give back to them. We are having lecturers and speakers to talk about education, architecture, culture — anything that has to do with anything Greek."
The lectures include an opportunity to visit the inside of the church and to see the impressive iconography, the symbols of faith and history that so heavily infl uence the faith of the congregation.
Schools and large groups are welcome, and can call the church offi ce at 484-8925 to make a reservation, but the public is invited as well.
Saturday and Sunday's events will not include the educational lectures, but will still feature the church tours and, of course, the other cultural delights that Greek Fest lovers look forward to with great anticipation each year. Papagikos warned though, that there are a few key changes to the layout.
"This year, when you walk through the festival you will feel like you are walking in Athens," she said. "There will be flower pots set up everywhere and no matter where you turn you will feell like you are in Greece for that moment.
There is going to be a lot more aesthetic beauty and culture so you feel like you are visiting Plaka — it is like the Rodeo Drive of Athens."
There will be dancing both inside and outside this year, which is a big change, but one that the event organizers think will add to the event.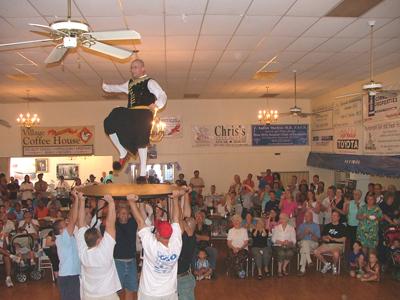 "One of the things our children look forward to the most each year is the dancing," said Papagikos. "If you want to see what this festival means to our community, look at the faces of the children as they are dancing with and for the community."
What is a celebration without good food and drink? Many hands are busy this year preparing the delectable offerings that can be found in the food tents. Everything from full meals to gyros, souvlaki and more will be for sale. The array of confections will surely satisfy any sweet-tooth, and inspire even the most disciplined to have a treat and enjoy the efforts of the dedicated people who prepared it.
Everything from art to jewelry to literature and clothing items will be available for sale. If you happen to make it to the cooking class on Saturday at 4 p.m., you will want to take a moment to shop in the Greek grocery store and take home a treasure or two to savor later.
A visit to the church website www.stsch.nc.goarch.org/GreekFestival will answer any questions you may have about the event.
Whether you are a veteran of previous Greek Festival or a newcomer to the event, Papagikos promises that it will be worth the trip to stop and visit.
"Plan to experience our culture with all five of your senses. When you come to the Greek Fest we want you to feel welcome," she said. "We want you to taste. We want you to dance with us. We want you to embrace the culture as we so passionately love it. We want to share who we are with you."
Photo: The congregation looks forward to entertaining their guests each year. This year's festival runs Sept. 9-11 at Sts. Constantine and Helen Greek Orthodox Church.