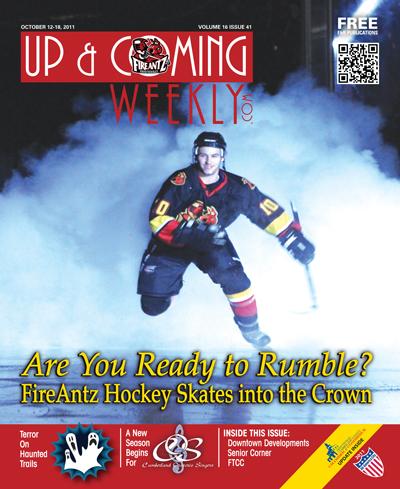 With the first signs of Fall showing up in the Cape Fear Region, it only makes sense that people's thoughts will turn away from summer and outdoor pursuits to something a little calmer — but not if you're a fan of hockey. In Fayetteville, colder weather means one thing: It's time for FireAntz Hockey. This year, the FireAntz are pulling out all of the stops to ensure a great year as they celebrate their 10th anniversary, according to Dean Russell, the team's assistant general manager.
Russell said the team is going into the season with a new outlook, a new coach and by-in-large, a new bench. The team has been busy recruiting new players under the watchful eye of the new coach, Sean Gillam.
"Sean is looking to build a bigger team, a tougher team," said Russell. "We are truly a developmental league, so players come here to learn and then they move on. We are looking at about six former players returning, but everyone else will be new."
Russell said he doesn't believe that will affect the devotion of fans, who have a strong support for the team. "We have even more opportunities for fans to get out and meet the new players. We are scheduling more meet and greets and more opportunities for the players to be out in the community," he said. "I think it won't take long for the fans to warm up to the new team."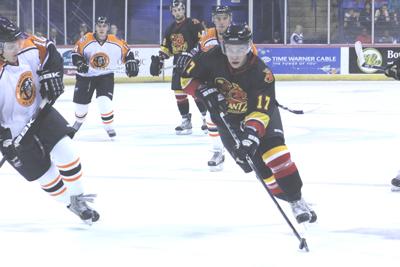 The new coach and the new team are something of a fresh start for the franchise. Last year was the first time the team did not make the playoffs, something Russell hopes will change this year.
"This is going to be a bigger team, a tougher team," he said. "We start training camp Sunday (Oct. 9), and I'm sure we are going to see a lot out of the team."
Over the years, the FireAntz have worked very hard to become an integral part of the community. They have participated in everything from promoting the Blood Donor Center to reading to children in elementary schools. That sense of community will be even stronger this year, as the team celebrates its anniversary.
"We have a lot of special nights already scheduled and a lot of other events, including the choosing of an all-decade team by the fans later this year," continued Russell. "Our first military night is at the end of this month on Oct 29."
Military nights are one way the FireAntz reach out to the military community. The team has already made inroads with the new commands and hopes to continue building relationships with the military.
The first game of the season is scheduled for Oct. 21 at the Crown Coliseum. Russell hopes that fans will come out and show the new players the support that make FireAntz fans legend.
"We have some players returning who were fan favorites, but we don't think it will take long for the fans to warm up to the new team," he said.
For more information about meet and greets, how to particiapte at on-ice games or to book appearances by the FireAntz, visit www.fireantzhockey.com. Check out upcoming issues of Up & Coming Weekly for more information on the team, special nights and upcoming events.
Gillam to Lead FireAntz in 10th Anniversary Season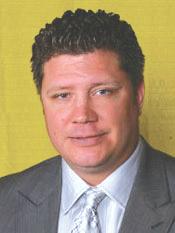 When Kevin MacNaught, president/general manager of the Fayetteville FireAntz, announced he was looking for a new coach to the lead the team in its 10th anniversary season, he was innundated with resumes. As he pored over reams of paper, one resume rose to the top — that of Sean Gillam, an assistant coach of the Rio Grande Valley Killer Bees.

Gillam replaces Tommy Stewart, who was released April 7 after four seasons with the Southern Professional Hockey League team.

"The cornerstones are that we're going to be a hard-working, disciplined team that puts forth 100 percent effort every night," Gillam said.

MacNaught noted,"I have faith in him to be able to recruit and put a strong team together," MacNaught said.

"I have confidence in him that he's straight-up. He didn't brag about anything — I had to pry stuff out of him about his assets, so he's pretty humble that way. He's a guy I think the team's going to be able to follow and believe in."

Gillam, is a 35-year-old native of Lethbridge, Alberta, and a third-round pick by Detroit in the 1994 NHL entry level draft. A defenseman, Gillam played in 662 games over 10 seasons as a pro minor leaguer. He signed with Rio Grande Valley (McAllen, Texas) in 2003 when the Killer Bees were launched, and the team retired his jersey in 2008.