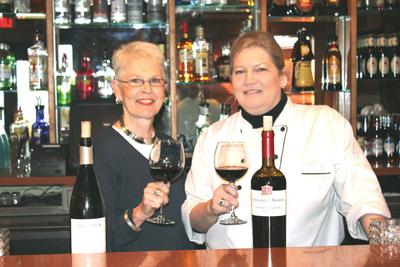 As someone who grew up in Fayetteville and is often back home for business and fam-ily, I am always appreciative of some of our more sincere non-chain restaurants. My constant favorite is hands-down the Hilltop House, which is located in the histor-ic community of Haymount.
The dining atmosphere is warm and inviting — and thoughtfully respectful of the 110 year plus history of the home. While the interior makes for a wonderful respite and a marvelous setting to conclude business, it is the food and the wine list that brings me back and solidifies Hilltop House as my favorite Fayetteville restaurant.
A thoughtful restaurant menu must always be paired with an informed wine list. The Hilltop does not disappoint. The domestic wines are of ex-cellent value and range from subtle crisp Washington State Rieslings to a Big Paul Hobbs Cabernet Sauvignon. There is an equally impressive selec-tion of international wines, all thoughtfully and extremely well considered — as we would expect from internationally traveled proprietor Sandra Shearin.
Ahh, but the main reason I am such a big fan is clearly the food. Irrespective, of whether it is only a small bite of lunch or a big night out for dinner, the menu is as wonderfully varied as the wine. Chefs Beth Smith and Matt Graham exhude both confidence and creativity in their preparation.
There is no obvious prejudice to a certain style or kitchen. This culinary freedom allows Hilltop to vary its menu and experiment with new opportunities.
My "never let me down" favorites are their simple shrimp bisque, stuffed pork chops and just about every salad they make.
Living in Charlotte affords me wonderful res-taurant choices. My wife and I have several that we frequent there, but back in my hometown of Fayetteville I am always eager to find another reason to dine at Hilltop House.
After all, I have only scratched the surface of their wine list and I have too many assured favorite dishes yet to sample.
Photo: Sandra Shearin and Beth Smith share a toast at the Hilltop House.