Part of the mission of the Fayetteville Symphony Orchestra (FSO) is to try and serve every citizen of Fayetteville and Cumberland County. The FSO will once again do so in a very special way when the orchestra, under the baton of Maestro Fouad Fakhouri, presents Peter and the Wolf at the Second Annual Exceptional Children and Adults' Concert on Friday, Jan. 27, at 7:30 p.m. at the Crown Theater in Fayetteville.
Free and open to the public, the concert event welcomes all children and adults to attend, providing an opportunity for those with mental, physical and developmental disabilities to enjoy a live performance of the symphony. The concert program features Michael Macias on piano, Ken Smith as narrator and Betty-Neill Parsons, conductor of One Voice, the Gilmore Center's Exceptional Performing Chorus.
"This is the second year that we've done this program. It was a great success last year," said Fakhouri, FSO music director and conductor. "There's obviously a need for something like this because many of these exceptional young children, and adults as well, are underserved in that regard, and we felt that we should fulfi ll that need. We have associated with the concert the instrument petting zoo. The kids get to grab these instruments, touch them and play them and then they get to hear them when we perform."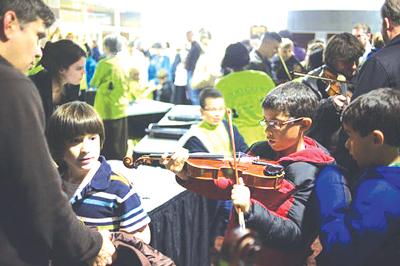 The FSO was able to acquire and purchase the instruments for the zoo through a grant from the Cumberland Community Education Foundation.
"These kids can always play with them, and when we go to schools, we can even take them with us. It's a great, great thing. The idea behind it is that after the concert, as they are walking out, the instruments are there as well, and they can gravitate towards the instrument that they liked in that performance. It provides them with hands-on experience with these instruments, beyond just sitting there in the audience and listening and being preached to. It gives them an actual chance to physically touch the instruments, and that's real important," he noted.
Also important, Fakhouri noted, is the effect the music itself may have on many in the audience who, prior to this type of concert, may have never had an opportunity to see an orchestra or sit in an audience and listen to one.
"Last year, when we first started, there were many noises in the audience, a lot of activity. As everything settled in, and as we started getting into the third or fourth piece, it almost had this calming effect, and you could sense that it shifted from 'they're just watching' to 'now they're listening to us' because a lot of the noise completely dissipated and subsided to a point where we felt we could acknowledge that we had their attention.
"The concerts in general are a joy for the musicians to perform and certainly for me because part of what we do as musicians always is try to touch people's lives in ways that we feel certainly are important to us as musicians. By the time you leave that concert, you feel that you have significantly affected positively the lives of children and adults," Fakhouri continued, underscoring the importance of the FSO's commitment to its mission as it celebrates its 55th anniversary season: To Educate. To Entertain. To Inspire.
"We want to encourage everyone to come to our concerts. We are constantly trying to seek programs, any events that will touch people. We are always striving for that, and to provide culture and music to all of Fayetteville and Cumberland County."
For more information on the Exceptional Children and Adults' Concert or the Fayetteville Symphony Orchestra, please call 910.433.4690, email info@fayettevillesymphony.org or visit www.fayettevillesymphony.org.
Photo: The Instrument Petting Zoo is a big draw for children at the FSO Exceptional Children and Adults' Concert..