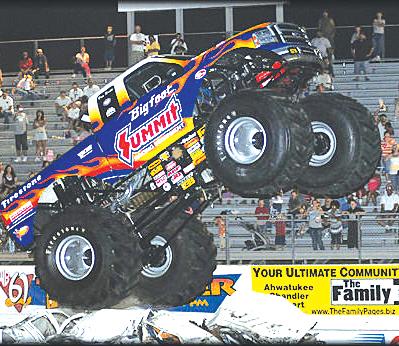 Ladies and Gentlemen, start your engines and take off to Fayetteville's 7th Annual AMP Tour's Thunder Slam Monster Truck and Motorcycle Demolition Derby at the Crown Coliseum on Friday and Saturday, Jan. 27 and 28.
There will be a pit party at 6 p.m. and the show follows at 7:30 p.m. This year's show features everything from high-flying freestyle BMX bikers, motorcycle destruction, monster truck rides and local Tuff Truck competitions.
Since 2005, The AMP Tour, based out of Scottsdale, Ariz., has put on hundreds of shows in cities all over the United States. This 2012 tour means visiting 17 different cities in a matter of 13 weeks.
"We are going to El Paso and San Angelo, Texas and then Fayetteville is our third stop on this tour," says AMP Tour Manager Ron Leach.
The AMP Tour is known for bringing 10,000 pound, 10-foot-tall, monster trucks with 2,000 horse power to a variety of different venues to captivate and thrill their audiences.
"This year's show is all new — never before seen in Fayetteville," says Leach.
Some of the most prestigious performers will also be returning to the Crown Coliseum; like Viper, Reptoid, Nail It, Country Boy and God, Guts and Glory. Watch these "masters of destruction" and more rev up their engines and crush cars with their oversized tires.
Thunder Slam also features the Road Rage Rampage Motorcycle Demolition Derby, which consists of six dare-devil motorcyclists getting decked out in protective gear and going head to head in a full contact battle with one another. The show includes a team of six of the best freestyle BMX bikers fl ying through the air and performing gut wrenching and nail biting stunts that are sure to fascinate you. These professional ramp-to-ramp jumpers from Pinn-It FMX will bring the stunts of the X Games seen on TV to the Crown Coliseum.
The show has a team of freestyle BMX bikers flying through the air and performing heart-stopping tricks. Also, if you're feeling gutsy, compete in Thunder Slam's Tuff Truck Challenge
"This is where local competitors have the chance to come to the show in their work trucks and they can jump jumps and crash cars," says Leach. "It's a great time."
"We're just going to be high and tight and have fun, there will be all new thrills and chills, a lot of excitement," exclaims Leach. "There will be a lot of things happening that have never been seen in Fayetteville before."
Tickets to The AMP Tour's Thunder Slam Monster Truck and Motorcycle Demolition Derby are available for purchase online or at the Crown Coliseum Box Office and other local Ticketmaster locations. Reserved tickets are under $20 and 30 percent off when bought in advance.
Photo: The Amp Tour's Thunder Slam Monster Trucke and Motorcycle Demoli-tion Derby will bring chills and thrills to the Crown.