Bikers and Bike Week fans have something new to look forward to — Friday, March 2 and Sunday, March 3, check out the Myrtle Beach Bike Week West Motorcycle Expo at the Florence Civic Center.
Myrtle Beach Bike Week West offers plenty to see and do, including vin-tage motorcycle displays, drag bike displays, chopper road shows, a ride-in bike show, live entertainment with legends of Bike Week, stunt riders, cus-tom builders, a vendors mall and more.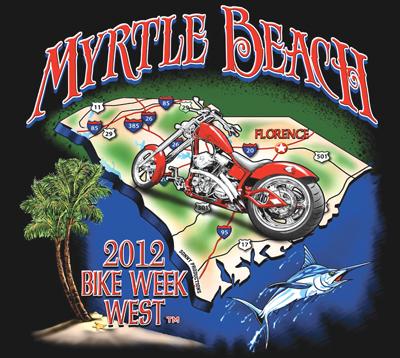 Friday night is Family Night. Kids 16 and under get in free with their parents. This expo is expected to be the largest family-friendly motorcycle event in the Florence, S.C., area.
Not only will there be bike-related activities, but look for good music, too. Friday night, Mojo Hammer performs with special guest Write Off 20. Both bands are local favorites. Nantucket performs at the event on Saturday along with All My Rowdy Friends — the ultimate Hank Williams Jr. Tribute Band and the original rocker and biker diva, Geneva.
Nick Hooker, marketing manager at the Florence Civic Center, noted that there is a lot going on at the Myrtle Beach Bike Week West Motorcycle Expo. "This is our area's first motorcycle expo," Hooker says.
Fayetteville's large biker community won't want to miss the chance to test the waters at this inaugural event. Hooker encourages the Fayetteville community to come and enjoy the expo. "Florence is not far from Fayetteville," Hooker adds, "It is conveniently located on I-95 and I-20."
Myrtle Beach Bike Week West Motorcycle Expo is open to the public. It gives fans of Nantucket a chance to come out, show support and enjoy a wide range of entertainment, and it gives bikers a chance to take a quick trip down the road to explore an event that will likely become a regular part of the area's springtime motorcycle festivities.
In addition to the displays and vendors, check out the raffle. The Challenger Motorcycle Lift used by Orange County Choppers during the Custom Bike Build on August 5, 2011 at the Florence Civic Center will be raffled off. Proceeds support the Wounded Warrior Project and the South Carolina Motorcycle Rider Education Program. The lift has Paul Sr.'s signature and the signatures of all the crew who worked to build the custom bike. Raffle tickets are $10 and will be available at the O'Reilly Auto Parts Booth at the expo. The lift will be on display there as well.
The winning ticket will be drawn on the concert stage Saturday night, March 3, during intermission at Myrtle Beach Bike Week West Motorcycle Expo. You do not have to be present to win.
Admission to Myrtle Beach Bike Week West Motorcycle Expo is just $15 per day and $20 for the whole weekend. Tickets can be purchased the day of the Expo (no advance sales). To find out more, visit www.myrtlebeachbikeweekwest.com or www.florenceciviccenter.com.