The U.S. Army Forces Command's Army Ground Forces Band performs at Methodist University on Saturday,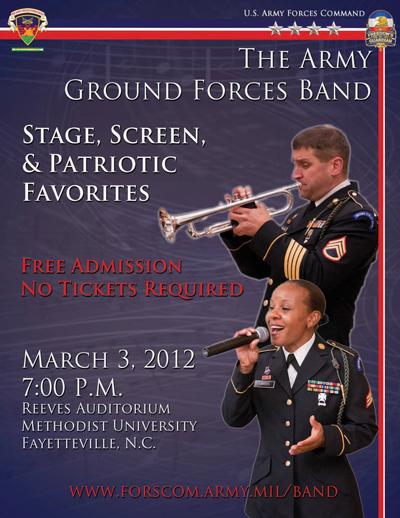 March 3, in Reeves Auditorium. The group of 59 talented and dedicated soldiers hit the stage at 7 p.m. will and provide the audience with an hour and a half of entertainment — free of charge.
"This will be our first regular concert in the Fayetteville area," says Maj. Treg Ancelet, commander and conductor of the Army Ground Forces Band, "The last concert we did in Fayetteville was our big holiday concert in Reeves Auditorium, but it was a joint concert."
The band, which has been stationed at Fort Bragg for a year, has high expectations for their members.
"All of our musicians are highly trained and had to go through a band audition to become a member of the major-command band," says Ancelet. "They have to score very high. Some of the band members have been to conservatories of music and are working on their doctorates."
The origin of the band dates back to 1846 when the band members helped in winning the Battle of Monterey and became the only Army band to receive a combat distinction from the President of the United States. The band uniforms have a red stripe down the pants to display this victory from 1846.
"This concert band will mix it up with some transcriptions," says Ancelet. "We'll do standard band repertoire, like Grainger; we've got to do a few student marches and there will be a lot of vocal and patriotic bids."
The concert also features videos that will accompany different songs, the service medley and some John Williams: Raiders of the Lost Ark. Also, at intermission the band will bring the Dixie Land Band out to play someDixie music.
"I'm really proud of this concert; I think it's going to be really fun and stuff that people don't normally see," says Ancelet. "There will be a lot of different dimensions that most bands don't bring to the public."
The ultimate goal of the four-star general's band (General Rodriguez) is to spread the Army's message around the country.
"With a band of this size and caliber, one of our missions is not just to bring morale for the troops, but to bring the Army's story to all of America," says Ancelet.
While The Army Ground Forces Band has performed for audiences as large as 3,000, they are hoping to have a great turnout for the Methodist University concert.
"We have given concerts to a large crowd before, and were kind of curious because it is our first regular concert. I hope everyone comes out and has a good time," says Ancelet. "It should be fun for all!"
This event is free and open to the public. Find out more about the Army Ground Forces Band, and the concert at www.forscom.army.mil/band.
Photo: Army Ground Forces Band will perform on March 3 at Reeves Auditorium.