As a society, we ask a lot of educators. In return it's only right to provide teachers with the resources and support they need to get the job done well.
That is the job of the Cumberland County Education Foundation. The foundation seeks to promote and support community awareness of issues critical to the success of our public schools; to facilitate funding of innovative programs not typically funded that offer excellence; and to recognize teachers, administrators and volunteers of outstanding distinction.
On Saturday, March 3, the Cumberland County Education Foundation hosts its annual fundraiser School House Rock, a fun way to celebrate excellence in Cumberland County Schools and raise funds for the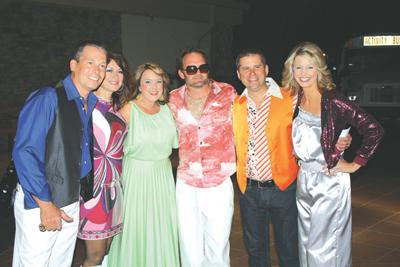 programs sponsored by CCEF.
Get out the hairspray and leg warmers ladies; and gents it's time to rummage through the closet for that Members Only jacket and slip on the wayfarers — the theme for this year's School House Rock is the 1980s.
With entertainment by '80s tribute band, The Breakfast Club, the evening promises to be totally rad. Formed in 1993, The Breakfast Club is all about the music of the original MTV generation and has been hailed by the Wilmington Star News as "better than the original artists."
"This is our signature fundraiser," said Cindy Kowal, executive director of the Cumberland County Education Foundation. "I do have to give credit to (Cumberland County School System Superintendent) Dr. Till; When he came on board three years ago we met and talked about fundraising … and he said 'I think people just like to have fun and go to a good party.' He was right."
The first School House Rock was a great success, and last year was even better. Kowal recalled that it was such a good time in part because people really got into dressing up and embracing the '70s theme. "Last year, if you were not in costume you really were the odd one out. Everybody was dressed in bright colors; there were afro wigs and things like that. There was really good music, starting with Woodstock and going into the disco generation. People had a lot of fun with the costumes — from Bob Marley to John Travolta. It was a big hit," she said.
Kowal is excited about the '80s theme for this year's party, and anticipates it will be just as successful.
"We are back this year bigger and better and expect everyone to have a totally awesome time. Parachute pants and big hair are strongly encouraged," said Kowal. "Be Tom Cruise, be Michael Jackson, be Ronald Reagan, we don't care — just come and have a great time with us," she added.
Funds raised at School House Rock benefi t the CCEF, which sponsors programs that serve students, support teachers and engage the community.
Students benefit from programs like Communities In Schools, which is the nation's leading drop-out prevention program. CIS serves more than 3,000 students locally with things like enrichment opportunities, mentoring, tutoring, community service and career exploration. Other supported programs include:
The Fuller Performance Learning Center, The Yanoff Music Initiative, a joint venture with the Fayetteville Symphony Orchestra that introduces classical music to all Cumberland County Schools third graders; the Teacher-of-the-Year Program, educational mini-grants provided by CCEF.; and the CCEF Science, Math and Engineering Explorations Grant Heavy hors d'oeuvres and cocktails are included in the $75 ticket price for School House Rocks.
"This event really does reach out to the community to support our mission," said Kowal. For more information or to purchase tickets visit www. ccedfoundation.org.
Photo: Supporters of education gathered for a '70s flashback at the 2011 School House Rocks.