The Ringling Bros.® The Greatest Show On Earth® is bringing Barnum Bash to the Crown Coliseum March 8-11. Barnum Bash is a new show featuring international acts and a pre-show that offers all circus goers a backstage look at circus life.
An hour before the actual show, clown D.J. Dean Kelley hosts the rockin' pre-show party. Guests are invited on to the arena floor to practice their juggling and balancing skills, experiment with circus style in glitzy costumes, as well as talk and take pictures with the stars of "the greatest show on earth." Even the elephants come out and join the party. One elephant will make a piece of art — a footprint using canvas and paint — which will be raffled off to party-goers.
New for this show, audience members can step behind the curtains for an exclusive backstage look at the exotic animals featured in the show."
Something we've never done before is open up the curtain and let guests take a back-stage tour," Kelley said, explaining that the audience gets the opportunity to be part of the whole experience.
"The pre-show party is my chance to interact and get to know the audience. I'm there to make sure everyone is enjoying themselves and having a good time."
Kelley wears a bright orange wig with a cowlick that stands straight up. His flamboyant personality is just as outrageous as his appearance; a sight to behold. The audience can't help but enjoy Kelley and the rest of the stars as they share circus tricks and wow the audience.
"We have a saying 'For kids of all ages…' and it's true — we have something for everyone, if you are 2 or a 102," Kelley said. "It's really cool when I can look into the audience and see a child and parent and grandparents all responding in the same way and all enjoying themselves."
Barnum Bash brings together a number of international acts including the Mighty Dmytrio, Motorcycle Mania, Epic Asian Elephants, Wheel of Steel, and Hand Balancers. All are tricked-out for the circus party and ready to perform wild feats of wonder and strength to contemporary pop music in 21st century Barnum style.
Kelley is excited about some of the new acts that have joined the show.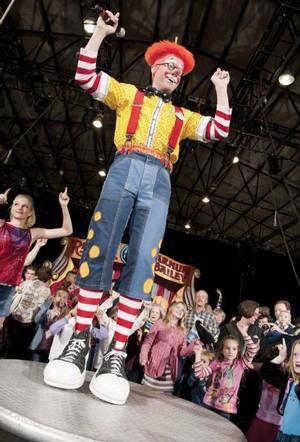 "I really like the hand balancing act by Duo Fusion. You know people might say … 'Oh it's a balancing act, it's boring,' but it's breathtaking every time I see it," he said.
Duo Fusion is a married couple who trained as gymnasts before joining the show. The duo combines their Latin heritage with strength, agility and balance to create an incredible show.
"Also, there is a troupe of acrobats from Cuba that are outstanding and do some things you've never seen before. That's why they're in the 'greatest show on Earth'," Kelley said.
Troupe members execute swift spins; bar-to-bar jumps; and high-fl ying, trapeze-like maneuvers where they are caught and released by a catcher as they perform fl ips and twists in mid-air.
"Growing up knowing what a treasure Ringling Bros.® is to the world, and then being able to perform in the show, is truly a once-in-a-lifetime experience. It's something I have always dreamed of doing and I'm glad I have the opportunity to do so," Kelley said.
For more information, visit www.Ringling.com or visit Ringling Bros. and Barnum & Bailey on Facebook. All seats are reserved. Tickets are available at the Crown Coliseum Box Offi ce and through Ticketmaster at 1-800-745-3000.
Photo: Dean Kelley, the host of Barnum Bash is excited about the stop in Fayetteville.