Wanderlust (Rated R) Four Stars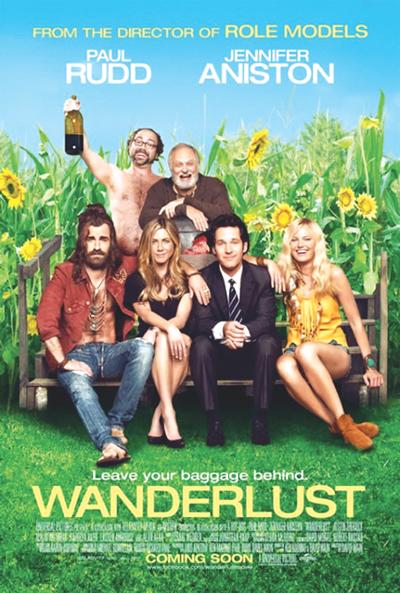 Wanderlust (98 minutes) is classic David Wain, the comic genius behind Wet Hot American Summer. Most of the Wain stable of actors manage to make an appearance in one form or another, although not everyone is equally prepared to carry their share of the comedic weight. And after the toxic waste dump that was Couple's Retreat, Malin Akerman really needed to do a better job at winning me back (her work on Children's Hospital not withstanding). If only Marguerite Moreau had been cast instead of Jennifer Aniston.
The film opens on some fairly stale material. George (Paul Rudd) and Linda (Aniston) are considering their first home purchase, a microloft in New York City. Although, it is refreshing to see a semi-realistic depiction of an actual New York apartment within the price range of the people who wish to live in it … the cute little condo is essentially a hallway with an attached oven/toilet. As small as it is, George and Linda still manage a moving in/housewarming party montage as they settle into their pricey new closet.
After all this character establishing, the young professionals experience some setbacks. Apparently, penguins with testicular cancer do not fit well into HBO's naked lady/big swords niche market, leaving Linda back at square one. And it turns out that George is not getting that bonus he was counting on, since his vaguely defined place of business is being shut down for shady business dealings of some kind.
So, out of work, unable to afford or sell their microloft, the power couple head down to Hot-Lanta to live with George's obnoxious brother (Ken Marino) and anesthetized wife (Michaela Watkins) in suburban splendor. Too bad George's brother is a rage-a-holic.
On the way from New York to Atlanta, contemplating the loss of their hopes and dreams, the couple pull over for a break … which seems premature, because if I can make it from Fayetteville to Pennsylvania in about 9 hours, they must have been driving down I-95 South at about 45 mph to end up in rural Georgia, in the summer, after nightfall, so late in the day that they are exhausted and ready to stop for the night. Maybe they left New York after lunch?
Anyway, they spot a convenient Bed and Breakfast, and pull onto a dirt road. There they are confronted by a naked Wayne (Jo Lo Truglio). I can only imagine how I would react if confronted with a fully clothed Truglio, so the fact that they immediately reverse at full speed and end up overturning their car is a totally reasonable reaction. It turns out he's not a psychopath, just a dirty naked hippy — in sneakers? (Birkenstocks really would have been more in character.)
Naked Wayne takes them down the road to the B&B, which is run by Kathy (Kerri Kenney-Silver from Reno 911!) After their long drive, Linda is kept awake by some Didgeri-dooing. Because she is a bad person and a terrible actor, rather than taking care of this herself, she makes her poor tired husband go yell at their hosts. Which he doesn't do, because the party downstairs is way more fun than his selfish, grouchy wife upstairs.
Eventually she heads down to look for him, and finds a whole houseful of dirty, dirty, hippies doing hippy stuff. Hey! It's Lauren Ambrose! I like her. Then, Seth (Justin Theroux) is introduced, and he is the dirtiest, hairiest hippy of them all.
Overall, if you like the David Wain brand, you'll like this. There is nudity, humor that most would consider to be in questionable taste, and Paul Rudd doing his Paul Rudd thing. I liked it more than I thought I would.
Now showing at Wynnsong 7, Carmike 12 and Carmike Market Fair 15.