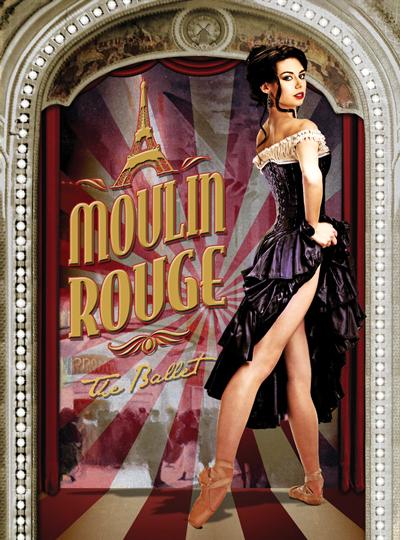 The Royal Winnipeg Ballet takes center stage performing Moulin Rouge at the Givens Performing Arts Center on March 20.
Choreographed by Jorden Morris, the astound-ing ballet takes place in turn-of-the-century Paris where Moulin Rouge, the cabaret of addiction and personal expression, brings about forbidden love for Nathalie and Matthew.
Moulin Rouge has been the subject of many books, musicals and, of course, the creation of a popular movie starring Nicole Kidman. This famous tale of a fanatical love triangle is cap-tured again through the art of dance and expression. Andre Lewis, artistic director at the Royal Winnipeg Ballet, says the ballet performance pushes the envelope.
"It a great show and the more we have per-formed, the dancers have become very comfortable," Lewis said. "We have had standing ovations after every show from the audience. Moulin Rouge also has an incredible set with exciting lighting and great costumes," he added.
David Thaggard, assistant executive director at GPAC, added that the students and the general public will enjoy the show as well. Thaggard is enthusiastic about the ballet coming GPAC.
"It will be a very exciting night that celebrates the art of dance," Thaggard said. "Everyone should take the journey and experience ballet in a whole new way."
This will be the first performance by the ballet at GPAC.
Canada's Royal Winnipeg Ballet was founded in 1939 by Gweneth Lloyd and Betty Farrally. The ballet has a trademark of versatility, technical excellence and captivating style.
"We are one of the oldest companies in Canada," Lewis said. "We have a well-established brand."
The company is known for touring all round North America. Since 1954, it devotes 20 or more weeks a year to touring.

Lewis has had the privilege of being a part of the brilliant company for almost 35 years. He was accepted into the Professional Division at the Royal Winnipeg Ballet School in 1975. He trained there until being asked by Royal Winnipeg to join their company in 1979. He is known as a talented dancer and has strengths both as a soloist and as a partner. Lewis has been part of the artistic staff of the Royal Winnipeg Ballet since 1984. After serving as associate artistic director five years ear-lier, he officially became the artistic director on March 7, 1996.
The curtain rises at 8 p.m. For more information about tickets, call 521-6287 or visit the website at www.uncp.edu/gpac.
Photo: (Top) Moulin Rouge comes to Givens on March 20.