21 Jump Street (Rated R) 4 Stars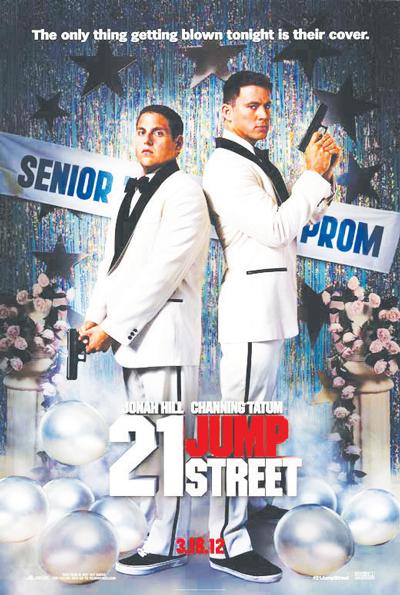 21 Jump Street (109 minutes) is funnier than it had any right to be, considering that dumb gross Channing Tatum co-stars, and considering the overall cruddiness of Jonah Hill's most recent "comedy" (The Sitter). Overall, directing team Lord and Miller manage to find the comedy inherent in sending 25-year-olds back to high school to play at being teenagers, a quality neglected in the classic 1980s crime melodrama. Let's hope they manage to avoid screwing up the inevitable sequel.
The film doesn't waste a whole lot of time playing exposition footsie, quickly introducing Morton Schmidt (Hill) and Greg Jenko (Tatum) and establishing their defining characteristics in short order. Schmidt is the nerd and Jenko is the jock who mocks him. Fast forward seven years later and both are trying to get into police training. One isn't quite fit enough to get through the physical training and the other isn't quite smart enough to pass the written test (guess which is which).
Schmidt decides that quietly forgiving Jenko will do him more good than working out his high-school scars and repressed rage in therapy, so they become best friends and end up as bicycle cops together. They screw up their first big bust, and get yelled at by Captain Hardy (my fictional husband, Nick Offerman). He then reassigns them to a recently revived undercover pro-gram led by Captain Dickson (Ice Cube) that places youthful police into high schools in an attempt to entrap underage students and infringe upon their First Amendment rights. Darn Patriot Act.
They stay with Schmidt's parents and promptly mix up their identities, stranding Jenko with the Dungeon & Dragon's players and honors students while Schmidt ends up goofing around in the academic B-track. They easily establish themselves as high-schoolers, despite having 5 o'clock shadow by noon. After a few minutes in class with Molly (Brie Larson from The United States of Tara), Schmidt finds the drug hook-up he is looking for. That is some remarkably quick detective work. Or possibly kids today hand out contact information for their drug dealers a lot more quickly than they did when I was in high school.
As the kids do, they text the dealer to score some dope. Naturally, the dealer immediately responds because dealers are nothing if not accessible to unknown buyers within minutes of being contacted. Of course, through the use of sitcom logic the two narcs are forced to dip into the drugs, and hilarity ensues. The track coach (Rob Riggle) nails them in the hallway, which leads to visions of his head melting. After their success in identifying the dealers, the two men-children begin hunting for the supplier. While the smart one is collecting cool kids like flies, the dumb one is getting Mary Kay Letourneau-ed by Ms. Griggs (a shamefully misused Ellie Kemper).
They decide to cement their in with the dealers by hosting a high-school party. This leads to a major breakthrough in the case and the two officers into a high-speed chase. Hilariously, they keep waiting for things to explode as seen on TV only to be repeatedly disappointed.
The writers manage to illustrate just how quickly high-school norms change, even if they then fall back in to high-school clichés that were new when Adam Sandler was still culturally relevant (see Billy Madison). Overall, the film works as a comedy, reminding me of Owen Wilson and Ben Stiller transforming Starsky and Hutch. Finally, kudos to Casting for digging original 21 Jump Street actors Peter DeLuise and Holly Robinson Peete out of whatever TV movie grave they were taking a nap in; I thought they were dead.
Now showing at Wynnsong 7, Carmike 12 and Carmike Market Fair 15.