Music, a uniquely human phenomenon, exists as a cultural influence dating back to the earliest of civilizations. From sim-ple farmers gathering after harvest for celebration and bonding to European monarchs housing masters for the court's enjoy-ment, music has always inspired and entertained.
Snyder Memorial Baptist Church continues this grand tradition by with a tradition of its own — The Festival of Keyboards. On April 29, Snyder Memorial Baptist church invites the community to enjoy a free concert played on four grand pianos by pianists from the Snyder congregation and Music Academy Faculty. Joy Cogswell the music academy director at Snyder, recalls the beginning of this tradition.
"Our minister of music Larry Dickens knew of a church in Virginia that had done something similar to this and we started the first year as a Christmas concert."
Cogswell recalls that in conjunction with the Singing Christmas Tree, the events were overwhelming so they decided to join this concert instead with the Dogwood Festival.
"That was a wonderful move that helped us to have just great crowds and I think we've been able to reach the community a lot better by partnering with the Dogwood Festival," Cogswell says.
As part of the Dogwood Festival series, which includes more than 30 sanctioned Dogwood Festival events,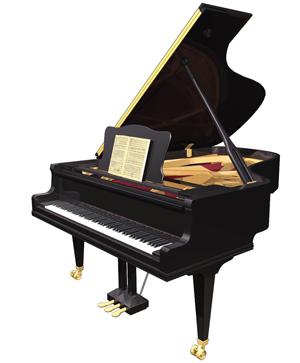 Snyder helps to provide family fun and foster Fayetteville pride. The concert's wide range of music also supports the Dogwood Festivals philosophy of "something for every-one" and gives the community a chance to celebrate its many talented members.
The concert features six pianists who are active in the Snyder congregation. In the past, music academy faculty have also performed.
"We've had as many as nine or 10, but this year we are using just church members or church musicians. This year we decided to go back to our roots with our church members, and let them share their God-given talents," Cogswell explains.
This concert also provides a unique opportunity for the musicians preforming, Cogswell, being a pianist herself explains, "Being a pianist is a pretty lonely job because you practice by yourself. You normally play by yourself and perform by yourself, so this is a really neat thing to be able to play with other pianist, to enjoy being together, to enjoy playing together, to enjoy working out the ensemble between the instru-ments."
The concert demonstrates the versatility of the piano as well as the great skill of the performers as many different styles of music will be performed, including sacred, classical, patriotic and pop.
"There will be music for everybody. We will also have at least one thing the congregation will be able to join us in singing. We have a mens ensemble, 12 or 14 men who are going to sing one of their pieces because they use two piano accompaniments in their piece. So that will be something new this year," said Cogswell.
Whether a piano enthusiast or unfamiliar with the piano this concert provides the perfect venue to renew or freshly inspire a love for this classic yet versatile instrument.
This free concert will take place within Snyder Memorial Baptist Church, 701 Westmont Dr. at 6:30 p.m. For more information, contact Joy Cogswell at 484-3191 or email at music@snydermbc.com.
Photo: On April 29, Snyder Memorial Baptist church invites the community to enjoy a free concert played on four grand pianos