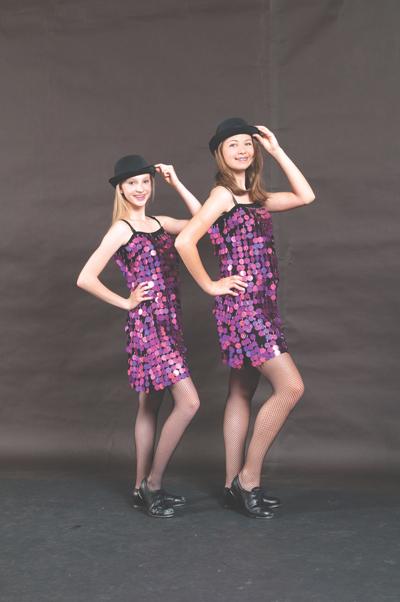 "I Have a Dolly" and "Copycats" may not be headlining the latest Broadway show, but they are an important part of Charlotte Blume's Spring Festival of Dance at the Crown Center Theatre, Sunday, June 23.
Some 200 plus dancers of all ages will perform in the variety dance show, which will feature classical ballet, tap dance, jazz, gymnas-tics and dances for children.
"We always enjoy the Festival of Dance," said Charlotte Blume, director of the Charlotte Blume School of Dance. "It gives all ages a chance to perform. To me, it is the most exciting thing in the world because the dancers have been working all year for this."
The Festival of Dance is an event that the dancers look forward to every year.
"We have a large repertoire of things that we do for different grade-levels," said Blume. "The music is perfect and the timing is right for their skills — and we always add some new things."
Blume's son, Howard, and his daughter, Hannah, are the guest performers for the recital. The duo will perform two rhythm tap-dance numbers.
Howard has choreographed several of the tap dances, which will be present-ed by young dancers ages eight and up and set by teacher Sheila Mitchell.
Hannah Blume, a dance major at her high school, has been on an award-winning Irish dance team and has performed extensively in California, including shows at Disneyland.
Audiences will see a progression of skills throughout the show as the dances for children evolve into the beauty of the featured classical ballets. They are the fairies from the prologue of Sleeping Beauty, the Pas de Trois from Swan Lake and the waltz from Tchaikovsky's Eugene Onegin.
Annemarie Strickland dances the Lilac Fairy in Sleeping Beauty excerpts. Ashley Watters, Daniel Rivera and Mary Maxton Fowler dance the Pas de Trois, staged by Wei Ni of the Carolina Ballet.
Deprecia Simpson, first place winner of the 2012 Kiwanis Talent Show, will perform a solo in "Fairies," and dances in both lyric and jazz pieces set by Aria Wood.
Charlotte Blume is directing the entire show, which promises to be an afternoon of fun and entertainment for family and friends.
After the performance, The Charlotte Blume School of Dance rolls right into classes for summer and workshops for the more advanced students.
"August starts back the regular season," said Blume. "We have Nutcracker auditions at the end of August, so the dancers have plenty this summer to help get them prepared."
Tickets are $9 and the curtain come sup at 2:30 p.m. Tickets can be purchased online through Ticketmaster or at the Crown Center Box Office. For more information, visit the Crown Center online at www.atthecrown.com.
Photo: Charlotte Blume's Spring Festival of Dance comes to the Crown Theatre on June 23.