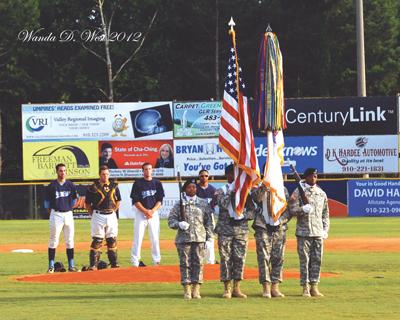 The Fayetteville SwampDogs have enjoyed another stellar first-half of the season this year, cementing themselves as one of the premiere clubs in the Coastal Plain League. Fans have poured into "The Swamp" consistently from the start of the summer, and look forward to an even better second half of the campaign.
Team USA was in town on June 25, giving fans an opportunity to see the elite collegiate talent in the country play against the SwampDogs in front of a rau-cous crowd. The Dogs impressed throughout the game, proving that they can compete with any level of competition.
The July 3 Fireworks Extravaganza was the biggest and brightest show the team has had yet, with fans piling into "The Swamp" to catch the action that followed the game. The annual event has become a staple in the Fayetteville-area social calendar, as thousands of loyal SwampDogs fans once again came out to show their support of the team.
Fayetteville will play three home games in the next week, beginning with Opening Night Part Deux on July 5, where fans can relive some of the best sequels of all time. The first 500 fans receive a souvenir team photo on July 7, with Guaranteed Win Night on July 10, where fans will receive a free general admission ticket to the next game if the SwampDogs lose.
As always, the Miller Lite Liberty Lounge will be open with dollar beers, hot dogs and hamburgers all night long.
Photo: The SwampDogs are enjoying a great season this year.