Craving authentic Italian cuisine? Conveniently located near Cape Fear Valley Hospital, L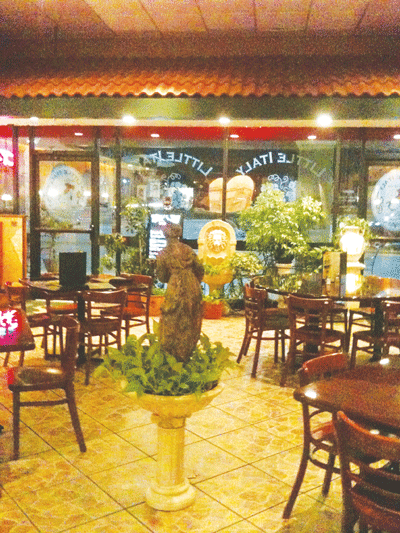 ittle Italy is truly a gem in Fayetteville. Their motto? "Where we eat and speak Italian." And they mean that literally — both Joe and Antonella Scibila speak fluent Italian and Sicilian. Their goal is to provide Fayetteville with a true touch of Italy right in the heart of Fayetteville.
Giuseppe "Joe" Scibila, a native of Sicily, immigrated to the United States at the age of 18. Once here, he went to work at an Italian restaurant and fell in love with the owner's daughter, Antonella. Antonella's family, also from Sicily, had migrated to Brooklyn, N.Y., before eventually settling in the Carolinas.
Joe and Antonella eventually married. In 1995 the young couple opened their own restaurant, Roma Pizza Cafe, in downtown Fayetteville on Person Street. After 12 fruitful years in that location, they sold the restaurant to relocate to Myrtle Beach, S.C. However, the pull of long-time customers and friends convinced them they needed to move back to the area. Says Antonella, "When you've been in business so long, your customers no longer are customers, they become your friends."
With their new venture, Little Italy, they were determined to give clients authentic Italian decor. They used their own photographs of scenery from their visits to family still in Sicily, and had them enlarged into murals to give customers the feel of sitting at an outdoor Italian cafe. A charming faux Italian terra cotta roof line and baroque arches frame the full color scenic snapshots completing the look. You will truly feel like you have stepped right into an Italian forum.
As you would imagine, their extensive menu is impressively Italian. Specializing in homemade pastas and sauces, you will find classic favorites like homemade lasagna, fettuccini alfredo, ravioli and veal or eggplant parmigiana. "All ingredients are fresh and most of our produce is from locally owned farmers markets," explains Antonella.
Feeling a bit more adventurous? Be sure to try one of the house specialties like the chicken sorrentino. A sumptuous chicken breast is layered with a thin slice of ham, eggplant and fresh mozzarella then sautéed in a delicate wine sauce with fresh mushrooms and minced onions over a bed of penne pasta.
If you don't see a favorite on their menu, just ask. According to Antonella they can probably make it for you. They have many items for vegetarian diners, as well as an option to have gluten-free penne pasta prepared with any of their pasta sauces.
For those in your party that are not in the mood for pasta, Little Italy also serves hot and cold subs, pitas, and of course, authentic New York-style pizza.
Be sure to save room after dinner. No Italian meal is complete without an original cappuccino accompanied by a piece of genuine New York-style cheesecake, tiramisu or a fresh baked cannoli.
Little Italy can be found at 1400 Walter Reed Rd., Suite 130. The restaurant is open at 11 a.m. to 10 p.m. every day except Saturday when they open at 1 p.m. They also do local catering. In a hurry? You can even get your dinner to go by calling 867-8700.
Photo: Little Italy provides a great atmosphere and delicious food.