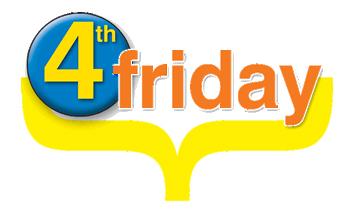 On Sept. 28, downtown Fayetteville will once again come alive for a local favorite tradition, 4th Friday. At this family-friendly event, the shops downtown stay open late and arts and entertainment flood the streets and galleries creating a fun atmosphere unique to Fayetteville.
Fascinate – U, the children's museum will participate in the festivities with fun kid-friendly activities. Not only will they be open late for families to enjoy, admission will be free. Kids can enjoy a craft that goes along with the International Folk Festival theme. It's one more way to teach children to appreciate the cultural diversity in Fayetteville. Youngsters will be able to participate and learn how to make Japanese origami. Fascinate-U will be open from 7 to 9 p.m. for this event and is located at 116 Green St.
The Fayetteville Area Transportation Museum will provide a historical aspect to 4th Friday. In commemoration of the Bicentennial of the War of 1812, The Fayetteville Area Transportation and Local History Museum opened Fayetteville and Cumberland County in the War of 1812, on May 1. The museum is now honored to host the National Museum of the United States Navy's traveling, mini-exhibit: War of 1812: A Nation Forged by War. Visitors will recognize how well the two exhibits complement each other and paint a more complete story of the War of 1812. Both exhibits will run through the bicentennial.
War of 1812: A Nation Forged by War highlights the prominent role of the U.S. Navy, U.S. Marine Corps and the U.S. Revenue Cutter Service in bringing Great Britain to the negotiating table and forcing European recognition of a truly inde-pendent United States. The exhibit tells the stories of heroic U.S. Navy crews in battles on the oceans and Great Lakes, as well as the contributions of sailors in celebrated land battles from Canada to Louisiana.
The Fayetteville Area Transportation and Local History Museum's exhibit, Fayetteville and Cumberland County in the War of 1812, highlights the military, political and social history of the era. National events such as the inspiration for our National Anthem, the burning of the White House, and Battle of New Orleans set the stage for events affecting North Carolina. Learn about the state's defense measures and the British invasion along our coast. Explore the weapons and tactics of Napoleonic warfare and gain a greater understanding of the war's impact on the home front in Fayetteville and the surrounding area. The museum is located at 325 Franklin St. and will be open from 6 p.m. until 9 p.m.
For those who like art, there are numerous galleries in downtown Fayetteville that will be open late for 4th Friday. Gallery One13 located at 113 Gillespie St. will be open from 6 to 9 p.m. The artists whose work is displayed here are all local.
Another place to explore the work of local artists is Cape Fear Studios. This gallery has many different mediums of art, so there is something for everyone to enjoy. This month, a new exhibit about glass opens on 4th Friday.
Glass blower David Goldhagen is the featured artist. As a visiting artist, Goldhagen's work will show and be available for sale through the holidays. Other artists included in the show are Kathy Oda and several CFS artists: Lois White, Connie Bennett and Jaylene Nordgren. The show is called "...and then there was glass!"
Cape Fear Studious is located at 148 Maxwell St. and will be open on from 6 to 9 p.m.
There are plenty of other things available at 4th Friday celebrations, too. Downtown Fayetteville boasts 37 places to shop and 28 places to eat. Most of these businesses will participate in the festivities by staying open late and some even offering free refreshments for patrons. 4th Friday provides the citizens of Fayetteville with a safe and fun environment to enjoy the town after hours. It is a family-friendly place to enjoy everything the town has to offer, from shopping and food to art and history.
Find out more about 4th Friday at www.theartscouncil.com.