There are many cities that claim to be international. Few of them celebrate it like we do. For more than three decades, Fayetteville has spent one weekend a year focused on the beauty and diversity of the local population. This year the International Folk Festival runs Sept. 23-25. Come ready to learn, try something new and be entertained. It is a chance to see the world without ever leaving town.
There are more than 30 cultural groups that participate in the event each year. Although each person travelled a unique path to get here, the members of these groups are excited to share their culture with their adopted hometown.
"Something people may not realize is that these are our friends and neighbors representing these cultures, and they are representing them in many different ways," said Arts Council Fayetteville/Cumberland County Marketing Director Mary Kinney. "At the festival you see people in the parade and then in the afternoon they are cooking for us — and they are cooking what they would cook for their families; and they are selling arts and crafts. On Sunday, those same friends and neighbors are performing. They are showing us traditions and dancing in their native dress. There are at least four different ways that they are celebrating with us and for us."
The fun kicks off on Friday, Sept., 28. Enjoy a celebration of culture during the 4th Friday activities. There is plenty to do downtown, with different entertainment, programs and gallery openings. The Arts Council exhibit, The Figure: Likeness and Presence is scheduled to hang through the festival and the Arts Council will be open throughout the festival.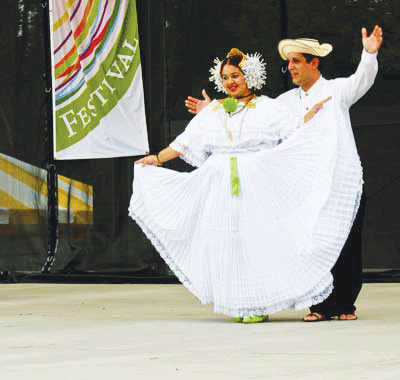 On Saturday, head downtown to see the Parade of Nations. Take in the colors and sounds of the world as Fayettville's diversity is showcased through the center of downtown. Groups from different countries don their native garb and step into the spotlight to share their heritage with the city. It is a chance to learn a bit about our friends and neighbors and appreciate what they add to the community.
From noon until 10 p.m., Fesitval Park is the place to be. There will be live performances, authentic cuisine, arts and crafts booths, a children's area and more. The stages in the park will rumble nonstop with the dancing, drumming and singing of songs from all corners of the globe as performers entertain and interact with the crowds.
As part of Fayetteville's 250th birthday celebration, R&B singer Aaron Neville is scheduled to sing on Saturday, Sept. 29, in Festival Park at 8 p.m. With a new album scheduled for release in Jan. 2013, Neville has been hard at work. The album My True Story, revisits many of his favorite songs. Some of the tracks include "Money, Honey," "Gypsy Woman," Be My Baby," "Tears on my Pillow," "Under the Boardwalk" and "This Magic Moment."
With more than 50 years in the music industry, Neville knows how to woo a crowd. He's been nominated several times for Grammy Awards in categories like Best Traditional Sould Gospel Album, Best Jazz Vocal Album, and Best Engineered Album – Non-classical.
While you are at Festival Park check out the handiwork of the international groups. There will be jewelry, art, crafts and more. View the craftsmanship, ask questions and listen to the stories about the processes and history that go in to each item.
Who can resist a good meal? At the International Folk Festival you don't have to — come hungry and try cuisine from all around the globe. With so many groups participating, there will be plenty of flavorful concoctions to go around.
If you can't make it on Saturday, the festival continues on Sunday from noon to 6 p.m.
"It looks like one big melting pot — and we truly are," said Kinney. "When you stop and think about how many ways cultures are showcased in the festival, what is so special about it is being able to experience so much in so many ways — and it is our friends and neighbors who are doing this for us."
While it is a wonderful treat to spend the weekend savoring the diversity of the community, there are several diverse and historic offerings in the community on a regular basis. Don't restrict yourself to one weekend a year. Enjoy any of the 15 Cultural Heritage Trails including the International Cuisine Trail or the Patri-Arts & Gardens Trail.
Find out more about the International Folk Festival at www.theartscouncil.com or by calling 3213-1776.
Photos: The International Folk Festival is a great place to learn about Fayetteville's diversity and to enjoy the many cultures that make up our community.