I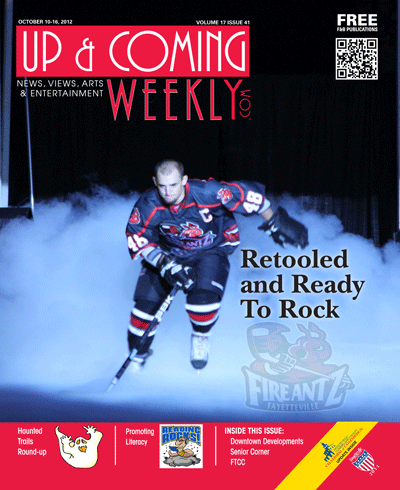 t's only fitting that the first signs of fall hit the region this week. That chill in the air can only mean one thing — it's time for FireAntz Hockey!
Loyal FireAntz fans have waited out the dog days of summer, anxiously anticipating a new season. And when we say new, we mean new. Last season was a rebuilding season for the FireAntz; one that didn't go exactly as planned. With a number of losses under their belt, the team fired its coach in February, something that is rarely done at this level of play.
"It's really tough changing coaches in mid-season," said Dean Russell, the assistant general manager and vice president of sales. "At this level, when you hire a coach, you are all in for the year, but we felt like it was necessary at the time."
The team finished out the season, and the FireAntz organization went on a hunt for a new head coach. According to Russell, luck was on their side. Mark DeSantis, who had been their first pick last year, had finished his commitment to a team in Rapid City, S.D., and was ready to take on the challenge of being a head coach. The timing, according to Russell, was perfect.
DeSantis has played professional hockey for 16 years, and served as the assistant coach to the championship Rapid City team for three years. A native of Brampton, Ontario, DeSantis has been busy over the summer recruiting what amounts to almost a completely new team. He is big on defense, and looks forward to building another championship team in Fayetteville.
Joining DeSantis on the coaching staff is former FireAntz player Sean Edwards. Edwards, a native of Belleville, Ontario, is a realtor in town. He played for the team in 2004-2005 and on a fill-in basis in the 2007 season. This is the first time in its 10- year history that the FireAntz team has had an assistant coach.
"Mark is ready to take on the team this year, and we are really excited to have him here as our head coach," said Russell. "He has completely retooled the team, and they are bigger and tougher than they have been the past two seasons."
Russell noted that player turnover is not unusual in developmental leagues, but that Fayetteville fans will see many more new faces this year than they have in the past. But don't worry, some of the fan favorites are returning including Josh McQuade, Mike Atkinson and Kyle Frieday. McQuade will be the Antz's top returning scorer. He was third on the team last season as a rookie with 22 goals, 26 assists and 48 points. Atkinson spent 33 games with the Antz, scoring eight points in his rookie season. Frieday, a defenseman, will be entering his third professional season. He played 51 games with the FireAntz in 2010, scoring 13 points.
Russell said fans can expect great things from veteran defenseman Andrew Smale. Smale, played for DeSantis for two seasons in South Dakota. He along with Bobby Reed and the team's new goalie, Marco Edmond, fill the team's roster as the team's three veterans players.
While you can expect things to heat up on the ice with the retooled team, the FireAntz staff is working hard to ensure that you get the whole entertainment package.
"Every year we want to make the season new and exciting," said Russell."This year we are going to have more special events than ever before." Here are a few of the things you can look forward to:
Preseason: Saturday, October 20 vs. Augusta Riverhawks
The season will start with a novel approach to the pre-season game that will be Saturday October 20th, where the entire game will be played "Backwards." MacNaught said the players will not skate backwards but the "show" and the order of the game will be in reverse. The game will start with a shootout and then will play the periods in reverse. MacNaught who is known to always look to make things interesting was called crazy by many of his peers for doing a game in this manner. It is just a way to change the look for the fans while not compromising the competition.
Opening Night: Friday, October 26 vs. "Rival" Knoxville IceBears
Opening night is a Fayetteville tradition for the FireAntz. The night will kick off this year with the first of the very popular kids nights that is being sponsored by Lee Hyundai this year. There will be one kids night each month where every student in elementary andmiddle school is given a voucher for a free ticket. Seven counties participate and the Fireantz include public and private schools. Home-schooled students can call the FireAntz office to receive their voucher. Special opening night group packages are available by calling the FireAntz office at 910-321- 0123 or by going to the website at www.fireantzhockey.com.
Lizard Lick Towing Night: Saturday, November 3 vs. Columbus Cottonmouths
This is a "WOW" night for the FireAntz who will wear special Lizard Lick Towing styled jerseys. These jerseys will be auctioned off to the public after the game, and the proceeds will be used to provide tickets to the military for our first Military Appreciation night on December 1st. Ronnie and Amy from Lizard Lick Towing which is produced out of Lizard Lick N.C., near Wendell is Broadcast on the Tru TV Network will be on hand to sign autographs before the game. This is a "must see" game because you never know what's going to happens when the people from Lizard Lick show up.
For more information about the team and to check out the full schedule of events, visit www. fireantzhockey.com.
Photo: The team has gone through some big changes since last year and is ready to get the
season underway.