Water. It's what attracted early settlers to the Hope Mills area. Although settlers were thriving in the area in the 1700s, it was 1891 before the town was chartered. The fi rst cotton factory was built in 1839 followed by other mills and factories in the area.
In 1872 Hope Mill opened and in 1885 the name of the settlement became Hope Mills. The town continued to grow as the mills prospered and in 1890, Hope Mills claimed the title of the second largest community in Cumberland County. It is this heritage that is celebrated each year at Ole Mill Days. On Oct. 21, Hope Mills Municipal Park will be fi lled with people enjoying themselves and celebrating the town's history.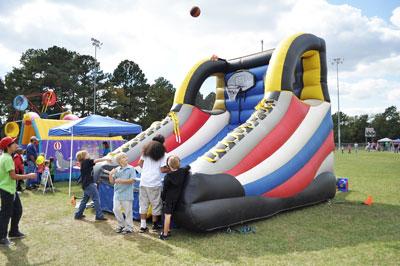 A family-friendly event, Ole Mill Days offers plenty to see and do throughout the day. Kids can enjoy rides and participate in the costume contest. Storytellers will be there spinning yarns and telling tales. There will be music, games and more.
Hope Mills Parks and Recreation Program Supervisor Kenny Bullock, enjoys putting on the celebration each year. Everyone involved goes out of their way to make sure there is a relaxed atmosphere and plenty of fun activities.
One of the main attractions is the tractor pull competitions, which are scheduled to start at noon this year.
"People come from as far as Virginia to compete in the tractor pulls," said Bullock. "There are different weights and classes including antique tractors and traditional tractors. There are seven categories in all."
Another highlight is the Old Mill Reunion which lasts from 2-4 p.m. Even though it is called a reunion, Bullock says it is more of an interactive and educational component and one of his favorite parts of the day. People who used to work in the mills and family members of former mill workers gather in the recreation center.
"That is where people who worked in the mill or whose family members worked in the mill can reminisce and share their stories with the public. There will be a slide show, too, and a lot pictures," said Bullock. "You learn what they did back then. I went through one year and learned a lot about Hope Mills that I never knew. It is open to public and we serve light refreshments."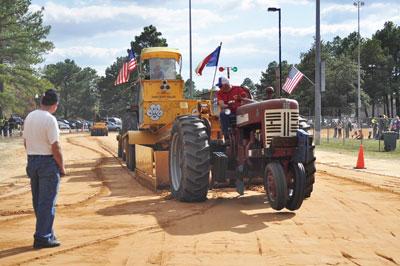 Games and competitions run throughout the day. The cornhole competition is a local favorite. It starts at noon and costs $20 to play. There are first second and third place prizes of $100, $50 and $25.
All the fun and attractions can leave a person hungry. Not to worry, not only are there food vendors selling things like turkey legs and funnel cakes, there is a chili cookoff, too.
The Hope Mills Chamber of Commerce sponsors the chili cook-off, which is always a big hit. Categories include hot, mild and peoples choice.
"The first year we did this we had, I think three pots of chili. The next year we had six and by the third year we had to change our location because we kept blowing the generator," said Jan Spell, Hope Mills Chamber of Commerce president. "In recent years we've had as many as 23-24 pots of chili. We sell chili all day long until it is gone, but we cut off the people's choice voting when fi rst pot of chili is gone."
Awards are around 3:30-4 p.m. for the cook-off. There are fi rst, second and third place prizes.
"We call them the silver spoon, the wooden spoon and the plastic spoon awards, and the winners are always tickled when we give them their spoons," said Spell.
The fun starts at noon and runs until 6 p.m. It is open to the public. Call 426-4109 for more information.
Photos: Games, food, fun and more are on tap at HopeMills' Ole Mill Days.