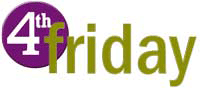 It's that time again — new exhibits are opening and activities abound on 4th Friday in downtown Fayetteville. 4th Friday is a true celebration of the arts and downtown. Folks of all ages get a taste of Fayetteville's art and entertainment while enjoying the small galleries, bookstores, bistros and shops with unique items for shoppers. It's safe, it's fun ... and it's free!
Exhibits, entertainment, refreshments and featured artists all combine to bring the art of Fayetteville to everyone – free of charge! Businesses in the four and a half block of historic downtown Fayetteville join the action and become artistic venues on 4th Friday, featuring the arts in all forms, for all ages.
This month it falls on Oct. 26. Come enjoy the festivities that fill Fayetteville's downtown area every month. There is something for everyone to enjoy in this night full of entertainment and education.
Are you prepared for the Zombie Apocolypse? The Headquarters Library is ready to help! You won't last long without a bug out bag. Having food, shelter and clean water might be the only reason you last another day during a disaster. Learn how to prepare for hurricanes, tornados and even zombies. Find out what to leave and what to pack. The program starts at 7 p.m. and runs until 8:45 p.m. Find out more at www.cumberland.lib.nc.us.
Arts will also be readily available at this month's 4th Friday celebration. Gallery ONE13 in particular will have a festive exhibits. In the spirit of Halloween S.T.U.N. art will be presenting the "The Ghouls, The Bad and The Undead" art exhibition. There will be music and light refreshments served at the event. Gallery ONE13 is located at 113 Gillespie St. and will be open from 6 to 9p.m.
Local gallery and artist's cooperative, Cape Fear Studios, presents its 18th Annual Nellie Allen Smith Juried Pottery Competition. More than 40 entries from across the country were accepted into the show and will be on display at the gallery through Nov. 19.The exhibit features both functional and nonfunctional pieces. The pieces were chosen to showcase the color, diversity and splendor of the works. An opening reception and meet and greet is scheduled for 6 p.m. during 4th Friday.Visit www.capefearstudios.com for more information.
Fascinate-U offers free admission and a craft for kids during the monthly celebration. This month, keeping with the October theme, kids are invited to make paper-plate ghosts . The museum is open from 7-9 p.m. for 4th Friday.
Don't miss the 3rd Annual Zombie Walk. Zombies meet up at Headquarters Library at 7 p.m. and hit the street (Green Street) at 8 p.m. The party continues at the Climbing Place at 9 p.m. with Airborne Aerial Artists performing. At 9:15 p.m., the Horrible Folk Improv group performs at the corner of Donaldson and Hay Streets. Round out the zombie fun at Dead • Alive, the goriest fright film of all time according to many, at the Cameo Art House Theatre at 9:45 p.m.
The Market House will also be open later than normal for 4th Friday with an exhibit for everyone to come and enjoy. This month's exhibit is Local Scottish History. Fayetteville is steeped in history and Scotland is one of the largest influencing forces of the region. Even Cumberland County's name is from Scottish origin. The Exhibit at the Market House dives into this sort of information and will satisfy any history buff's need for information- or just the curiosity of the average citizen. The Market House is located at 124 Hay St. and will be open from 6p.m. until 10p.m.