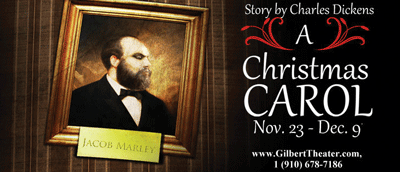 As much a part of the holiday season as Black Friday, gingerbread houses and egg nog, A Christmas Carol has become a Fayetteville tradition that the community looks forward to each year.
Like clockwork, the show opens the day after Thanksgiving. This year the show runs through Dec. 9.
Written by Charles Dickens and published in 1843, A Christmas Carol tells the story of Ebenezer Scrooge. A selfish and stingy businessman, Scrooge is visited by the spirit of his deceased business partner Jacob Marley and the ghosts of Christmas Past, Christmas Present and Christmas Yet to Come. These visits shake Scrooge to his core and bring about a change in him — one that affects many lives.
This is the first season that Artistic Director Robyne Parrish is taking part in this tradition and she says that the audience is in for a little bit of a surprise this year.
"We are revamping it this year … we are trying something new," said Parrish. "We brought in a guest director from the New York/Pittsburgh area, his name is David Little. We are trying to do something different this year. We have a great cast and expect this to be a wonderful production."
Little is playing his cards close to his chest, but did share a little bit about some of what the audience can anticipate.
"We were looking for a way to reinvigorate the production," said Little. "We are using the same script but we have reimagined it as if it were a 1940s radio play. There are a few surprises in addition but none I want to share."
The play opens with a group of actors in the 1940s at a second-rate radio station. They are producing a radio version of A Christmas Carol, and the show takes off from there.
"I am looking forward to seeing how the audience responds," said Little.
The Board of Directors at the Gilbert has been doing this a long time and this is different from what they've done in the past. Some actors are the same as in past performances, but this year the approach is different and Little promises that there are some nice surprises in store.
"It has been fun to work on this process. As a director and a story teller, I love the challenge," said Little. "This story has been told so often and in so many different ways that it is fun to work on a production that is new and different from what I have seen and done in the past. That is really fun for me."
While Little hails from Pittsburgh, Pa., he frequently works in New York City. He says he is impressed with Fayetteville and the work going on at the Gilbert Theater.
"I would say I have been really impressed with the Gilbert Theater. They seem to be making big changes and strides forward creatively and artistically. I find that really exciting," said Little. "I am impressed with the cultural fabric of this city and the place that the Gilbert has within the city and the fact that Robyne (Parrish, the artistic director) and Jeremy (Fiebig, the managing director) and their board of directors seem to have a high priority placed on quality and really developing relationships with the people that they work with."
The play opens Nov. 23, and runs through Dec. 9. Visit www.gilberttheater.com for show times and ticket information. Reservations are highly suggested.