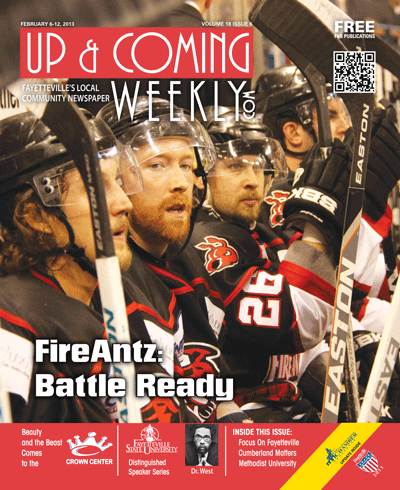 It's halfway through the season, and the FireAntz are in top form. After taking on a new coach this year, recruiting strong players and working hard, the team is back on top of their game and currently in first place in the Southern Professional Hockey League.
"This team is far more competitive than last year," said FireAntz general manager Kevin McNaught. "Three years ago we went to the finals but lost the final game. We've always been a competitive team, but the last two years have been down years."
The new Head Coach, Mark DeSantis, didn't waste any time turning things back around. McNaught credits the coach's ability to build good chemistry between the team members as a key ingredient. DeSantis came to the FireAntz after playing professional hockey for 16 years and then taking on the role of assistant coach in Rapid City, S.D. for three seasons.
For DeSantis, building a good hockey team is as much about character as it is about skill. In the end, coach made the foundation of the team around three key players.
Obviously with a guy like Bobby Reed, our captain, he was a good example of what I want to build our team around," said DeSantis. "He is a great person, he has good character and he's a good hockey player. That was my number one thing — getting a guy like him."
Andrew Small played for DeSantis his last two seasons in the Central League, and joined the FireAntz this year.
"He is a little older, comes with a lot of experience and just wants to play a lot more," said DeSantis. "He plays 30-35 minutes a game. Bringing a guy like him in has been good for the team."
Marco Emond was DeSantis' next pick for building a strong team.
"Marco Emond, our goalie, has won 32 championships. You want to build around this type of person; they are what we need here in Fayetteville … and you just go from there," said DeSantis.
Once these three players were on board, it was clear what needed to happen next.
"We have a rising star in Josh McQuaid," said DeSantis. "His talent is off the charts — he brings it every night. The great thing about Josh is that he just loves to score, and you can't fault a guy for that. "
At the moment, the FireA
ntz are at 12-1. They've worked hard and played their best every game, but with 19 games to go in the season, DeSantis has no illusions about what lies ahead.
"I am very happy, but it is real tough because I know we have a real good fan base and they suffered the last two seasons," said DeSantis. "It is a tough one to start 12-1, I mean, I love it but it is hard to make changes when you make 12-1. I know that other teams are going to get better and with this record it is tough to make changes. Our fans are great and they want to see us do well every night. But as a coach, I can live with losing if we work the other team hard and give 100 percent."
Don't miss the next game on Feb. 8. The Fort Bragg Patriots — the Fort Bragg hockey team formerly known as The Dragons — is playing right before the FireAntz.
"They are playing the Fort Benning team," said McNaught. "On that night it will be two for one tickets for military members. One ticket will get you in to both games if you are in the military."
The FireAntz have a strong relationship with the military community and partner with the U.S. Fort Bragg Public Affairs Office to distribute tickets to FireAntz games among other things. Throughout the community the team partners with businesses and organizations, too.
For example, the team has been known to attend and sponsor blood drives, food drives and fundraisers for local charities. The Feb. 10 game is a fundraiser to benefi t the Cape Fear Valley Health Foundation's Friends of Children. "We've visited the hospital and they do more than cancer related things," said McNaught. "They do a lot of fundraising and a golf tournament to raise money for local children. We are happy to work with them and support their work."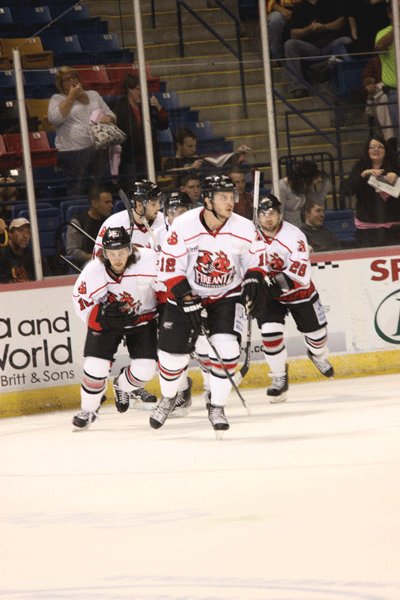 Of course, the FireAntz love playing hockey and making every game a good time, but the team is also serious about giving back to the community, starting in the rink. FireAntz home games often include themes like military appreciation night, beach night, scout night, ladies night and more. McNaught says that the team asks a lot from the community so it is only right that they give back.
Outside the rink, the team is always looking for ways to make a difference. "We visit about four schools a week. The players go out and visit schools and we do a lot of rec centers, too," said McNaught. "We really enjoy getting the players out with the kids. In fact, we have more kids at our games than anyone in the league. We do one kid's night a month."
After 17 years in the community, McNaught says keeping things fresh and fun is important to the team. "The biggest challenge when you are around it a lot is keeping things from being stale. We try to get the best team that we can on the ice every year. Off the ice we try to do more and more with the community. It is something to always work on and have an open mind about."
Find out more about the FireAntz at www.fireantzhockey.com.
Photos courtesy of Tom Groves.