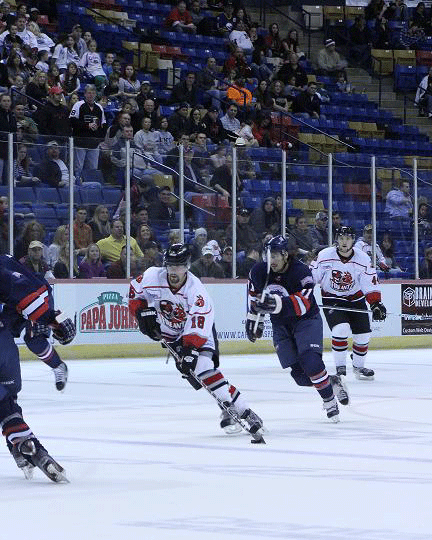 The Fayetteville FireAntz, through 40 of 56 games played, had a tremendously successful season, so far. They boast the Southern Professional Hockey League's leading scorer, Josh McQuade (34 goals and 26 assists), as well as one of the elite goaltenders in the league, Marco Emond, who has been among the goaltending leaders all season. Add the fact that they have the top-scoring offense and one of the best defensive units, things have looked good this season.
The FireAntz also have had the luxury of remaining relatively healthy throughout the season, only losing a handful of man-games due to injury. Additionally, due to the fact that they've been amongst the league leaders in the standings all season, their roster has remained mostly intact. They've had players called up to higher leagues who have returned, and some who have stayed but Head Coach Mark DeSantis did such a good job assembling the roster, from day one, that they haven't had to cut a single player.
The FireAntz, collectively, have a much bigger goal in my mind, however, than success in the regular season. With only 16 games remaining, seven at home, the playoffs are right around the proverbial corner and that is where the FireAntz are placing their focus.
"We are just trying to win each and every game." Defenseman Kyle Frieday said, "Obviously, we are trying to stay healthy but we just want to keep rolling into the playoffs."
The FireAntz, in their 11-year existence, have won one SPHL Championship, in 2006-07. They are looking to repeat that feat this season.
"We are playing hard every shift, every night." Forward John Clewlow added, "We are trying to play our best hockey as we get to the playoffs."
With the FireAntz only four points out of first place, they are trying to capture home-ice advantage for the playoffs. Each round of the playoffs contains an odd number of games and the higher seed will host the deciding game of the series, should it go that far.
There are only seven home games remaining for the FireAntz this season. Come out and support your Fayetteville FireAntz as they look to capture another SPHL Championship. For more information about tickets go to the FireAntz Web site at www.fireantzhockey.com.
Photo: The FireAntz are playing hard to make it to the playoffs.