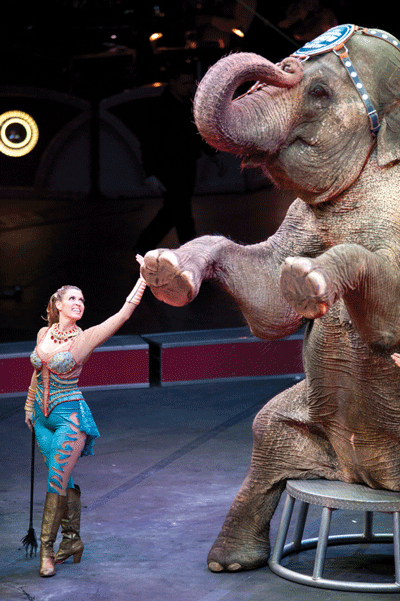 Fresh salty peanuts, sweet brightly colored cotton candy and laughter are all tastes, sights and sounds associated with the circus. For people young and old the circus is a place to be awed and entertained by the amazing feats of the performers — animals and humans alike — and from Feb. 28 until March 3, the Ringling Brothers Circus will be in Fayetteville.
The Ringling Brothers Circus has been around since 1919, and is known for its extreme and awe-inspiring shows. Cathy Carden, an elephant trainer with the circus, described the upcoming show for us.
"It's a really awesome high-energy show called Fully Charged. Everything lights up with color, and it's very cool. We have a new ringmaster, David Shipman, who sings throughout the show. We have a lot of original music, some pop tunes and we have a live band, which is a Ringling tradition."
Almost all of the music is original music with a high-energy sound. It is upbeat. The show includes everything an audience expects from a circus. There are jugglers and animals, clowns and acrobats.
"We have high-wire performers, and we have the globe of steel," said Carden. "A steel globe is made out of strips of metal and you can see inside. The motorcycles get inside and ride in it — even upside down. It is one of the most dangerous acts in the circus world. They have three motorcycles in there at one time! The one we use is the smallest one in the business which means it has to be more precise and the riders have to have a faster reaction time."
Exotic and trained animals are another major staple of the circus. No circus is complete without an elephant, but the Ringling Brothers Circus has all of that and more.
"We have many animals which include three elephants I have had my whole life," said Carden. "For 39 years we've been together every day. It is very cool to have elephants as part of the family. We also have two camels, two Arabian horses, two Shetland ponies, one mini horse and a baby camel who is 7-months-old named Sable. He is so smart it is scary. I have 16 dogs, six of which are in training and 10 of which are performing," she added.
Yet the Ringling Brothers Circus has far more than standard circus fair. There are dancers and acrobats — acrobats from Russia perform on a moving platform that is elevated like a trapeze/mini stage. They do fl ips on and off of the platform as it moves.
"We also have an award winning Cirque du Soleil personality from Russia as well," said Carden. "He does a trapeze aerial act that is amazing. He takes a pad like a mattress and they pull him to the top of the ring and he falls and does incredible acrobatics on the way down. I have never seen anything like it."
Another way Fully Charged goes above and beyond in its productions is by opening up the experience to the public.
"The one thing the kids really like is the preshow. It is free with your ticket and starts one hour before the show. They can come to the ring, meet the performers, and take pictures with them. You can see the elephants up close and come back stage and see the animals get prepped for the show and see all the props. That is one of the best parts of coming to the show," Carden explained.
The circus will be in town from Feb. 28, until March 3, at the Crown Coliseum. Tickets can be purchased online at ticketmaster.com or at the Ringling Brothers Circus website www.ringling.com or by phone at 800-745-3000. For more information, call 919-510-0641. Remember, the preshow is free with tickets and begins one hour before the show starts.
Photo: Elephant trainer Cathy Carden has been with her elephants for 39 years.