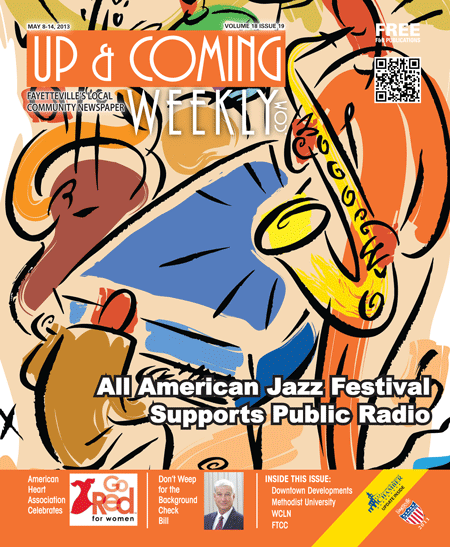 Jazz music is a uniquely American music. It was born on American soil and since its inception it has influenced every genre of music that has come after it. The hallmarks of Jazz are the use of blue notes and the polyrhythms that have permeated African American musical traditions for centuries. Unlike many movements in arts, jazz has not faded or morphed into something new destined to be completely forgotten. Jazz is still quite popular. WFSS is embracing this incredible genre of music and bringing it to the public by hosting the All American Jazz Festival on May 11.
"This is actually an outgrowth of the Jazz on the River event that WFSS has hosted at Campbellton Landing for the last several years," said Marsha McLean, WFSS Interim General Manager. "We are looking forward to having this at Festival Park. It is such a nice venue, and a place that the audience can really enjoy themselves."
One of the featured acts at the festival is The Jazz Crusaders. Since the 1970s this band has been producing a jazz-funk style of music that has topped R&B and Pop charts alike. They have recorded more than 40 albums since their inception and will be performing at the All American Jazz Festival. The members of The Jazz Crusaders are Joe Sample, Gerald Albright and Wayne Henderson.
Keiko Matsui will also take the stage at the event as a featured performer. She is an incredible performer who has brought new life to Jazz. She is native to Japan, but now resides in Los Angeles. Keiko found her love for music at the tender age of five, when her mother gave her the first piano of her career. Her love of Jazz also developed at an early age, in middle school. She was a top student at the Japanese institutions where she studied, and was signed to a recording contract with the jazz-fusion group, the Cosmos. She came to the United States at the age of 19, and has been making her unique brand of new age, smooth jazz, and jazz-fusion records ever since.
Marcus Johnson is another featured performer that night. He is a jazz keyboardist and performs contemporary jazz. He is known not only for his skill, but also the incredible passion he puts into his music. Johnson listened to a variety of music as a child and fell in love with jazz when he was 13 years old.
Smooth jazz fans will be treated to a performance by Maysa. She started her career as a back up singer for Stevie Wonder and moved on to work with Arsenio Hall, Oprah and performed on The Tonight Show. She has had several top ten hits on the Jazz and R&B charts.
"We are very excited about the lineup this year," said McLean. "Any of the musicians featured at the All American Jazz Festival could stand alone as headliners. They are all top names in the jazz industry and bring a lot of talent to the stage."
While WFSS consistently provides high quality programming to the public, McLean pointed out that there is a lot more to this broadcasting station. As a public radio station there are some freedoms and some challenges that shape the services and programming. "We are proud to broadcast jazz music along with our other broadcast features like NPR's All Things Considered and Morning Edition. Jazz is not something that is commonly heard on commercial radio stations and we are glad to provide our audience with a different kind of listening experience," said McLean. "As an institute of higher learning we have many mass communications majors that are able to get hands-on experience here. We work with the students to give them valuable learning experiences that will prepare them for the future."
Because WFSS is a public radio station there is always pressure to find ways to fund the radio programming and to continue to meet the needs of the listeners. The All American Jazz Festival is a way to celebrate great music while supporting public radio and the Fayetteville State University students that train at the station. The All American Jazz Festival will be held at Festival Park. The gates will open at 3 p.m. and the preshow will begin at 4 p.m. Featured artists will be presented at 8 p.m. Festival park is located at the corner of Ray Ave and Rowan St.
Tickets are $35 in advance and $45 the day of the show. VIP tickets are $75. Ticket are available from a variety of locations. To purchase online tickets visit www.wfss.org or www.Etix.com. To order tickets by phone through Etix call 1-800-514-3849. Tickets are also available at the J.W. Seabrook Auditorium, which is open Mondays through Friday from 8 a.m. until 5 p.m and located in Fayetteville State University at 1200 Murchison Rd. Sponsorship and vendor opportunities are also available for anyone interested and further information can be found at www.wfss.org.