The book of Matthew tells the Gospel story of Jesus' birth and his childhoo in Gainesville, Ga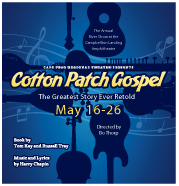 . Wait…it doesn't? The Cotton Patch Gospel, directed by Bo Thorp, founding artistic director of Cape Fear Regional Theatre, tells the story of what would have happened if Jesus were born in America. Cape Fear Regional Theatre adapted this play for its 29th Annual River Show, which is performed each spring at the Sol Rose Amphitheatre at Campellton near the Cape Fear River.
"The play is taking a look at Jesus' life in modern-day terms. He is born in Georgia instead of Bethlehem and he doesn't go to the high priests, Jesus goes to Atlanta's 'black bible society.' The message is serious but it's told in an entertaining and creative way and still very inform-ing," said Mike Rice,who plays Matthew.
Though it's a religious story, you don't have to be reli-gious to enjoy the play.
"People's first impressions are it's a religious show, yes, but you don't have to be Bible-literate, it's a good story to come down and see," saidDanny Young, one of the cast members. Andrew Crowe, a newcomer to North Carolina a who plays Joseph and Judas follows up, "You may be surprised and love some things about it that you least expected. But if nothing else, come hear some great music."
The music is something the whole crew agrees is very significant. "The music is very integrated to the feel of the atmosphere, it's lively and earthy. It tells the story as the dialogue does; it's not an interlude, it reinforces events and takes you to a place you weren't before. The songs capture events, such as the excitement from Jesus and his disciples," Rice explained.
"The music is a resounding experience," chimed in Crowe.
Bill Joyner, the music director, was praised for putting the musicians togeth-er. "It's very remarkable to bring people together with different harmonies and structures. It's also about hiring outside people like Andrew and developing that chemistry and comfort," Rice said.
Crowe added, "It takes strength to adapt and figure out how to use everything." Picking up the conversation, Rice continued, "It's not enough to learn the notes, you have to learn the style; learn the feel and move with the music."
They all agreed that the audience is another important factor. Rice said, "They are the focus. It's the characters talking, but the narration is directly to the audience, it's why we are here!"
If you think the play is unique, the crew and cast mem-bers are just as cool. Rice has a degree in philosophy and theology, but also a bachelor's in music theatre. "I've sung, and played guitar at churches for young people. Who would have thought 28 years ago playing guitar in this show that I would end up with the lead in the show."
Crowe has always been interested in music; he was doing classical music his senior year of high school but fell in love with acting and ended up splitting it with his major in music in college. This is his first performance in North Carolina and he has performed all over including Missouri, Milwaukee and Boston. Crowe said, "The continuing job of the actor is to always look for more work. When I get a job, that's vacation. I have leisure time to learn my lines — unlike the other guys here who have other jobs and have to cram stuff in."
Other members can attest to that. Joyner confirms, "Having a day jobs gets exhausting and it's hard to balance it."
Nevertheless, everyone is anticipating an outstanding performance. "I'm very excited," said Joyner.
The River Show runs May 16-26. There is a dinner-theatre option where fried chicken with all the fixin's is served. Reservations are required for the dinner-theatre option. Or, there is an option to come at 8 p.m. when the show starts. On May 19 and 26 there will be a matinee performance at the theatre on Hay Street at 2 p.m. Lawn chairs can be brought to the Campbellton Landing performances but, please no coolers; beer, wine, sodas and snacks will be available for purchase.
For reservations call, 910-323-4233. For more information, visit www.cfrt.org.