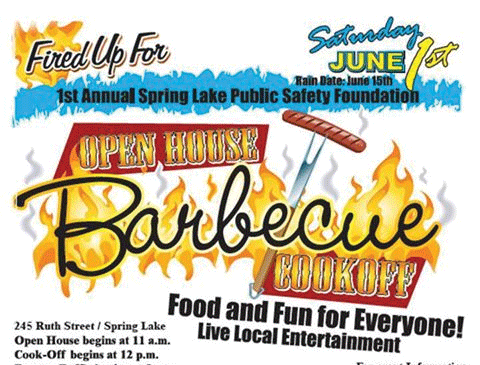 During North Carolina summers, barbeques and cook-offs are a tradition. They bring the community together over great food and the beautiful outdoors. It is in this bonding of the people that ideas are shared and the community can grow. One particular area that every community can grow in is their public safety, and The Spring Lake Public Safety Foundation is planning to hold an open house and barbeque cook off for just that purpose.
One of the most important functions of this open house event is to let the community see and interact with the Spring Lake Police and Fire departments. It sends out a message of accessibility and availability to the community.
"It is an open house and the Spring Lake Police Department and Fire Department will have their trucks out there and do safety demos on summer safety and stranger danger, etc. We want to say that we are here and we are at your service," said Kristy Sykes, an event committee member.
At the Open House and Barbeque Cook-Off, there will be live entertainment, food, vendors and even prizes.
"Tickets for the raffle are $50 and the grand prize is $2,000. The reverse raffl e is when the last ticket holder standing is the winner, instead of the first ticket drawn. The last four people standing have the option to split the award or go for all or nothing. The proceeds for the event go to the Public Safety Foundation to help purchase new safety equipment for the police department and the fire department," Sykes explained. The raffle will be held inside the gym at 5 p.m.
The committee has designed a plethora of events for attendees to enjoy.
"The police chief is going to do demos of sawing-off car doors of crashed vehicles. Kids can try on fi reman gear and walk around. We will have food vendors out there and the barbeque cook-off is going to feature ribs, chicken and pork," said Sykes. "There will be a contest for the best barbeque, but there will be other food vendors out there as well. There will also be arts and crafts. Noah's Art, which is a new business in Spring Lake, will be present. This is an art studio for kids that focuses on classes for kids and "mommy and me" outings, and Saturday classes. There will also be bouncy houses, and starting at 11 a.m., the local D.J. Ryan from WCCG 104.5 FM will be performing."
Not only will this event offer an exciting and fun day for all that attend, it benefi ts the community in many ways. First, it creates a bond between the community and the people who protect it. Second, it funds the police and fire departments by providing them with the equipment they need, and finally, it fosters the growth of the entire Spring Lake Community.
Sykes added, "It is a big deal for Spring Lake in trying to bring together the community. Spring Lake is growing rapidly and the town, Chamber and Foundation are working together to provide more free community events."
The Open House and Barbeque Cook-Off is June 1 from 11 a.m. until 6 p.m. at the Spring Lake Community Center Complex. This building is located at 245 Ruth St., Spring Lake. For more information, call 497-8821 or visit the Spring Lake Community website at www.spring-lake.org/calendar.html. More details can also be found on the Spring Lake Public Safety Foundation Facebook page at www.facebook.com/SpringLakePublicSafetyFoundation