If you're looking to have a good time on Saturday, June 1, you don't have to look far. Simply take a drive down to Festival Park, where you can enjoy two sultry pleasures — beer and the blues, as the Cape Fear Regional Theatre brings back the Blues and Brews Festival.
The Blues and Brews Festival, an annual fundraiser for the theatre, has been a favorite community event for a number of years. First held at Campbellton Landing, the festival has grown dramatically over the years, which lead to the move to Festival Park. Last year, more than 2,500 people sipped their way through the festival, which has event organizers setting their sights a little higher this year.
"We are shooting for 3,000 people this year," said Jenny Deviere, the chair of this year's event. This is Deviere's 褀rst year as chair, and she hopes that some minor tweaks to the already successful festival will help bring in more people.
"This is the first year we have had a presenting sponsor," explained Deviere. "Mellow Mushroom is partnering with us as the presenting sponsor. They will cater the entire VIP tent, as well as have a raf踀e for a lucky couple to win pizza for a year."
The VIP ticket was introduced several years ago and has been a tremendous success. VIP ticket holders gain entrance to the festival an hour earlier than normal ticket holders and their ticket includes dinner in the VIP tent.
There will be a tasting featuring all the breweries during the VIP hour. Those holding VIP tickets will have the opportunity to sample the brews and vote for the Best in Show. The winning brewery will have a banner in front of their tent proclaiming its beer the Best in Show.
For those who do not purchase a VIP ticket, there will be more food vendors on hand than in years past. That is one of the tweaks Deviere and the Blues and Brews Committee made. "We don't allow outside food or drinks, so it is important to have a big assortment of food for folks who are spending the evening," said Deviere.
One of the biggest tweaks to the festival revolves around the music.
"One of the biggest areas that we have had people comment on over the past couple of years is the music," she noted. "We have heard that folks think the music has been lacking; that we haven't paid as much love to the music and bands as we should have. So we are correcting that this year."
Blues lovers will be happy to know that there will be not one, but three great blues acts performing this year.
Kia Walker, a local performer will be on hand in the VIP tent beginning at 5 p.m.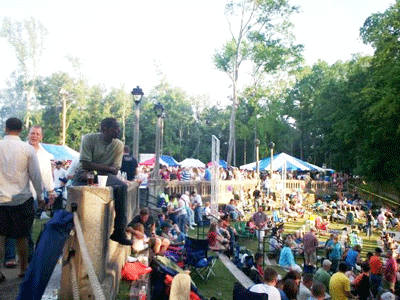 On the mainstage, Old Habits, a Raleigh-based band, will belt out its mix of Blue Grass and Rock-A-Billy Blues. Old Habits will be followed by a band that Deviere classi褀es as a dirty, old blues band, the Fat Bastard Blues Band out of Mebane, N.C.
With the music covered, that brings us to the heart of the festival — the beer.
"We will showcase more than 100 beers from all over the southeast," explained Deviere. "With each (full-priced) ticket purchased, attendees will receive a commemorative glass for tasting."
Nannette Walsh, a theatre volunteer, was in charge of organizing the brewers for the events. Walsh brought together an eclectic mix of independent brewers and brewers who are represented by distributors. Two distributors, R.A. Jeffreys and Healy Wholesale, will focus on some of their more non-traditional beers.
Confirmed brewers and beers that will be available for tasting are:•
Aviator Brewing Company, a Fuquay-Varina-based brewery, that will feature HogWild IPA, HotRod Red and the Devil's Tramping Ground Belgian Tripel.
• Barrel Trolley Brewing Company out of Rochester, N.Y., represented by Mutual Distributors, will showcase its Barrel Trolley Shandy. Also represented by Mutual, is Saranac Brewery, which will feature Saranac Summer Shandy, Blueberry Blonde and a White IPA.
• R.A. Jeffreys will feature a number of breweries, including:
* Blue Point Brewing Company, Long Island, N.Y., with a Toasted Lager Hoptical Illusion, a White Ipa and a Summer Ale.
* Carolina Brewery, out of Pittsboro, N.C., with a Sky Blue Golden Ale, Copperline Amber Ale, Flagship IPA and Bullpen Pale Ale.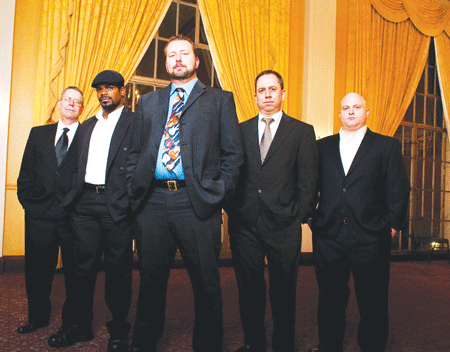 * Natty Greene's, a Greensboro-based brewery, will have a Southern Pale Ale, Buckshot Amber Ale, Elm Street India Pale Ale, Shock Top, Shock Top Apple, Landshark and Black Crown available for tasting.
* Blue Point Brewing Company, of Long Island, N.Y., will have Toasted Lager, Hoptical Illusion, White Ipa and Summer Ale.
* Carib Brewery will showcase its Carib Lager and Mackeson Stout.
* Goose Island will showcase 312, Honkers and a Summer IPA.
* Fayetteville's own Huske Hardware will pour its Watermelon Wheat Beer and its Ala Yeah Pale Ale, Farmhouse and Spring of Perles Light Lager.
* Wild Blue from Anheuser-Busch.
* Lonerider Brewery our of Raleigh, N.C., will have The Preacher-Saison, a Shotgun Betty Hefe Weizen and Sweet Josie, a Brown Ale.
* The Lion Brewery, of Wilkes-Barre, Penn., will feature a Lionshead Pilsner and a Stegmaier High Drive.
* Triangle Brewery will bring a Belgian Golden, a Triangle White and a Best Bitter.
• Carolina Brewing, of Holly Springs, N.C., will bring a Carolina Pale Ale, Carolina Nut Brown Ale, Carolina India Pale Ale and Carolina Summer Ale.
• Fayetteville's Mash House will feature a Blonde, Irish Red, IPA and Maibock.
• Railhouse Brewery, out of Aberdeen, N.C., will pour a FCA IPA and a Mastiff Oatmeal Stout.
• Raleigh Brewing Company will feature a House of Clay Rye IPA and a Czech Pilsner
• Healy Wholsale will represent a number of brewers, including:
* Boulevard Brewery with a Boulevard Unfiltered Wheat
* Foothills Brewery showcasing Hoppyum, Seeing Double and a Carolina Blonde Hefe.
* Leinenkugel Brewery will pour Leinenkugel's Summer Shandy.
* New Belgium Brewery will serve Fat Tire, 1554, Ranger IPA and Dig.
* North American Brewery will pour Magic Hat #9.
* Sierra Nevada Brewery will present Sierra Nevada Pale Ale and Sierra Nevada Summerfest.
* 10th and Blake will have Crispin Cider, Blue Moon, Blue Moon Seasonal and Batch 19.
Tickets for the event are $35 for those tasting; $15 for general admission; and $50 for VIP admittance. The VIP Tent is open from 4-5 p.m., with general admission beginning at 5 p.m. This year, credit cards can be used at the gate. For tickets and more information, visit www.cfrt.org.
Photo: Middle right: Blues and Brews — from Campbellton Landing to Festival Park. Bottom left: Fat Bastard is set to perform along with Kia Walker and Old Habits.