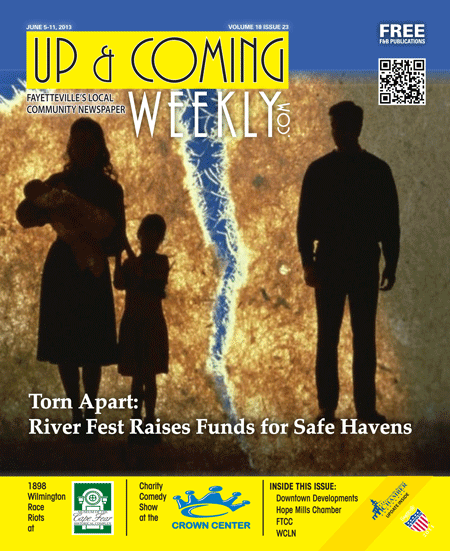 Fayetteville is full of venues for outside events, and Campbellton Landing is just one of many great choices for an outdoor concert. On Saturday,June 22, head to The First Annual Safe Havens River Fest. The day will be filled with music, fun, food and more.
Beginning at 2 p.m., four local bands are set to entertain the crowds, all for a great cause, and best of all — it is free. A staple at local festivals, Fahrenheit opens the festivities. The band has performed at many popular venues around town including the Dogwood Festival and business openings as well as local watering holes. If Tom Petty and the Eagles are on your playlist, don't miss Fahrenheit.
Next up, '80s Unplugged pays homage to Rubik's Cube, Swatch Watches and Members Only jackets with hits straight from the decade of big hair and skinny ties. While the band hails from Southern Pines, it is not unusual to find it performing in Fayetteville at places like Carolina Ale House and Luigi's Italian Restaurant. Seal the Deal follows and Radio Boxx ends the show with funk, jazz and R&B.
In addition to a day of great entertainment, River Fest includes a motorcycle show.
"The Wingmen of Fayetteville Motorcycle Club are doing a bike show for us," said Bobbi Hair, the event coordinator who serves as a case manager for family court.
There is a $25 entry fee to enter the bike show. Trophies will be awarded for first and second place for American stock, sportster stock, big twin, custom sportster, custom big twin, bagger and Metric sport bike ,bagger, chopper, rat and best of show. Registration starts at 2 p.m., on the day of the event. Call 910-484-2936 or email www.9339mc.com for more information about the bike show.
Stick around for the 50/50 raffle at 6 p.m. Tickets are $5 per entry or $20 for five tickets. Participants must be present to win.
There will be vendors on hand as well. So far, there are more than 20 vendors that will be there selling everything from jewelry and make-up to food and other homemade items.
What is a day of festivities without great food? "We will have food vendors serving fare that is similar to what is served at other big festivals in town throughout the year," said Hair. "Huske Hardware will be there selling BBQ sandwiches and other things and we will have a big selection of festival food including funnel cakes and things like that."
Proceeds for the event benefit Safe Havens. Safe Havens has grown from an organization that served eight families when it opened in 2004, to a service that serves about 130 families in Harnett, Johnston, Lee, Cumberland and Hoke counties on a regular basis. The court-run program has survived on grants until recently when an operating grant was not renewed. This put the organization at risk, along with the families that benefit from the organization's services. Safe Havens acts as an intermediary for families that are torn apart. The agency facilitates visitation and works to resolve custody issues.
"The reason for Safe Havens is when a judge hears a custody case, if they see that domestic violence is a problem or is alleged, or if there is substance abuse or the mom or dad has not been in the child's life for several years, rather than let the absent parent visit unsupervised, they let the parent visit at Safe Havens," explained Hair.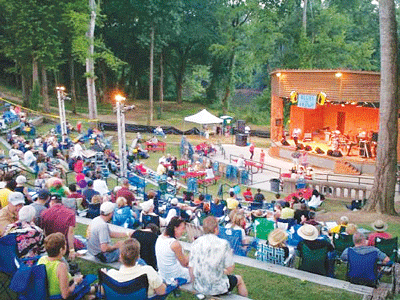 The parents do not have to interact. The facility provides visitation rooms with various themes, including a Hawaiian theme and solar system theme. The rooms are soothing, and Safe Havens provides toys and games. Social workers come into the center, and depending on the situation, they monitor the visits. When the child is brought in to the visiting parent, the social workers are trained to watch the body language of the child during the conversations and make notes.
The notes are then submitted to the judge to review so the court can gauge how the visits are going and act in the best interest of the family.
In addition to social workers, Safe Havens visits are supported by security services so that parents, social workers and kids are all safe during the visits and drop-offs/pick-ups.
"It is just a wonderful agency," said Hair. "It breaks my heart that it is possibly going to end."
Hair noted that there are several other grants that the organization has applied for, but so far the staff has not heard back from any of the benefactors. As things stand now, Safe Havens will close its doors on June 30, leaving about 130 families without service in Cumberland and surrounding counties.
River Fest is a great way to raise funds and have a fun time, while making a difference in the community.
While admittance is free, organizers anticipate the crowd will want to buy food and make purchases from the local vendors.
"We are looking forward to everyone coming out and having a good time," said Hair. "I am especially looking forward to getting exposure for Safe Havens. A lot of people don't know what Safe Havens is and how well it serves the community. While this event may not raise the funding we need to stay open indefi nitely, we do hope to raise enough to keep the doors open while we pursue other funding avenues."
To volunteer at River Fest, or to learn more about Safe Havens, call 910.475.3225. The gates open at 2 p.m.
Photo: Campbellton Landing, a popular venue for music events, is set to host the first annual Safe Havens River Fest on Saturday June 22.