Reaching New Heights – The Climbing Place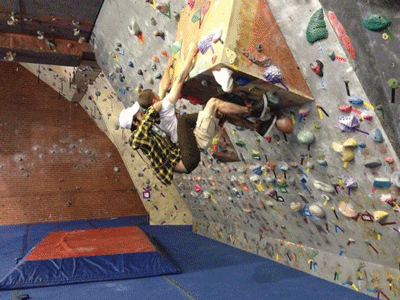 The Climbing Place is 18,000 feet of pure, unadulterated climbing fun for all ages and parties. Adding flair of adventure to the downtown area since January 1, 1995, The Climbing Place is a no-brainer choice when considering a way to spice up anyone's visit to downtown. Owner Michael Pinkston, commonly known as Mr. P, prides his business as being the oldest continuous climbing facility in the state of North Carolina as well as one of the most extensive in its services.
Maneuvering over obstacles and traversing difficult terrain has been a part of human history since the days of our nomadic ancestors. The sport of rock climbing is believed to have originated in the late 19th century in different parts of Europe made popular by the linear rock formations that litter the Eurasian landscape. Unlike the dangerous landscapes of tales long forgotten, The Climbing Place offers a rock-climbing experience in the comfort and safety of an indoor utopia. Putting the customers first and ensuring a fun time for all visitors has remained the philosophy of The Climbing Place since its beginning. "Customer satisfaction and safety are our top priorities," said Pinkston. "We teach beginners how to tie knots, put on equipment and obey different climbing commands."
Rock climbing indoors works by creating several artificial rock walls tagged with different climbing paths made by small rock-like grips. Each path is color-coded and marked with the difficulty, name of the creator and the date it was made. There are three different climbing techniques — bouldering, leap climbing and top rope climbing. The Climbing Place brings business from in- and out-of-state with its variety of rock climbing and in particular its 600 feet of traverse-climbing space.Retired from the military, Pinkston's job was to scale cliffs and mountains to write manuals about rock climbing and its procedures. Originally planning to become a guidance counselor, Pinkston saw an opportunity to share his love of climbing when he bought a warehouse formally owned by Chevrolet M and O. "The ceilings were 8-feet tall," Pinkston said. "We lifted the ceiling tiles and thought that it just might work."
Pinkston believes rock climbing can become a valuable recreation that people of all ages can take part in. "Climbing not only produces physical rewards but also challenges the climber's skills in the areas of confidence, problem solving and perseverance," Pinkston said. Scaling one wall are several rock-climbing paths for younger children as well, evidence of perseverance and determination were found in the form of hundreds of scuffmarks left by the small pathfinders.
The Climbing Place welcomes all visitors, no matter what skill-level or handicap. Pinkston reflected on his experience with blind climbers as something amazing and awe-inspiring, the only thing holding a person back from being a climber is a lack of determination — if there's a will then there's a way. The Climbing Place also works with home-schooled children as well as kids with autism.
No matter the occasion, The Climbing Place caters to all audiences and climbing purposes. Whether earning a scout merit badge, throwing a birthday party or planning a school field trip, The Climbing Place will guarantee boundless fun for all. The Climbing Place is located at 436 West Russell Street and accepts walk-ins, memberships and passes.
Photo: The Climbing Place has been providing adventures for locals since 1995.