Good food, culture, music, dancing and great company — what's not to like? It's time for the 23rd Annual Greek Festival and all the fun that comes with it. Sept. 6-8 the congregation of Saints Constantine and Helen Greek Orthodox Church will host the much anticipated and much loved Greek Festival.
The entire congregation pulls together every year to host this event, and every year the community takes them up on their offer of hospitality. The festival is centered on outreach and sharing, and every year the entire Greek community pulls together to give the locals an opportunity to get to know our neighbors and their culture a little bit better.
"One of my favorite things about the Greek Festival is the fellowship and learning more about our religion and sharing these things with the community," said John Poulos, a member of the Greek Festival Planning Committee. "I like sharing the positive things that the Greek culture and the Orthodox Church does for the community and sharing our culture and our heritage."
Many friendships are formed and memories made when people break bread together. A favorite aspect of Greek culture for many who attend the event, is the food. The Greek Festival features everything from gyros to souvlaki to spanikopita. For those who love Greek food this is a great opportunity to taste the many lovely flavors of the Greek Isles. Lamb, beef and chicken prepared with olive oil and spices make up a portion of typical Greek fare, along with the greens and veggies that are used in a refreshing Greek salad. Stuffed grape leaves, or dolmades are another popular dish. While parents can enjoy authentic Greek cuisine, there is always something for the kids to eat, too. Greek beer and wine, which pair nicely with the authentic cuisine are also available at the event.
Not much finishes off a great meal like an amazing dessert, and local Greek pastries can't be beat. This is one of few occasions throughout the year when the congregation offers such delicacies in great supply. Filled with honey, nuts and butter, baklava is always a hit, but the pastry table is always covered with a variety of delectable treats like finikia, almond cookies and more.
This year there will be a limited lunch all day Friday, with a full dinner serving beginning at 5 p.m.
Decked in traditional garb of the Greek Isles, various folk dance troupes perform each year, showcasing the native dances and dress of their homeland. The troupes typically perform at various times throughout the weekend and often invite the audience to join in the fun and try a few of the simpler dances.
"We are going to show visitors to the festival how to Greek dance, but we will also give them a geography lecture and show slides of citi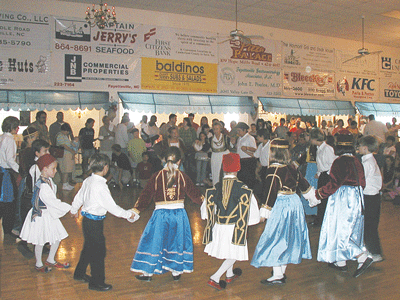 es, villages and monuments in Greece," explained Poulos.
Traditional Greek music will be provided by the Nick Trivelas Band, right down to the bouzouki, a mandolin-like instrument that is a staple in this genre of music. His playlist includes not only traditional Greek songs, but songs that can be heard in Greek taverns today. He's released a CD of Greek Dance Festivalival music and one of Mediterranean love songs as well and both have met with great success across the country.
No culture can be truly understood without examining its faith. Take a guided tour of the church and learn more about Greek history and the Greek Orthodox beliefs. It is a great time to ask questions and delve deeper into the beliefs that inspire so many people in the community.
Books about the Greek Orthodox faith are sold at the market each year. Visitors will find everything from paintings, to clothes to jewelry.
The Greek grocery store offers things like olive oil, cooking wines, coffee and other items that are commonly found in Greek pantries. It is a fun way to experiment with new ingredients, or even to pick up some hard to find items that will perk up meal time.
Also on display will be a traditional Greek home. Take a peek into the simple décor and serene atmosphere of a typical homestead that one might find on a Greek island.
The raffle each year includes two round trip tickets to Greece (or $2,000). The tickets cost just $5 each.
An addition to this year's Festival is a community health fair. Working in partnership with Cape Fear Valley, the Festival will offer CPR classes as well as screenings for blood pressure and cholesterol. Attendees will have a chance to give back during a blood drive.
"We are hoping this will have a positive impact on the health of Cumberland County," said Poulos.
Gracious hosts each year, the generosity of the congregation extends beyond the Festival weekend. Several nonprofits in the community benefit from donations that the Saints Constantine and Helen Greek Orthodox Church bestows upon them. This year is no different, as the church plans to share part of the proceeds from this event with the community. Agencies who will receive funding include the American Red Cross, the Boy Scouts of America, the United Way and the Autism Society. "If you haven't been you should give it a try," said Poulos.
"If you have been before, we can't wait to see you again!"
The Festival runs Sept 6-8 and is open from 11 a.m. – 10 p.m. on Friday; Saturday from 11 a.m. – 10 p.m.; and Sunday from noon until 6 p.m. Entrance to the event and parking are free, but come prepared to shop and eat! Find out more about the Festivalival at www.stsch.nc.goarch.org or by calling 484-2010.
Photos:  A celebration of culture, faith and food, the Greek Festival runs Sept. 6-8.