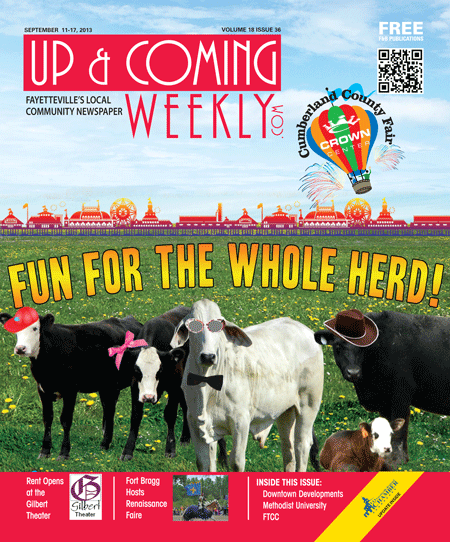 Now that school is back in session it is time to start thinking about the fair and all the fun that comes with it! The Cumberland County Fair will be in town Sept. 12-22, and it is filled with rides, events, food and more…
Hubert Bullard has helped organize the fair for the past 15 years and he is excited about what visitors will find there this year.
"One of the things that kids enjoy most at the fair is the rides, and we have 12-14 of the best carnival rides in the state for school-age kids," said Bullard. "For the low price of $10 a person can buy an advanced ticket and can ride all the rides any weekday."
This fair also has one of the largest petting zoos in the state, said Bullard. While sheep and goats are a lot of fun to check out up close, kids may want to keep their distance if they attend the One World Exotic Animal Show.
"We've got lions and tigers coming to the exotic animal show," said Bullard. "This is an exciting show out of Venice, Florida. We will have two shows per day during the week and three on the weekends. Another new attraction this year is the bungee trampoline and the rock climbing walls and pony rides."
Even the youngest family members will have things to do. Cumberland County Schools system is offering a toddler driving school at the Expo Center. Kids can use pedal cars to complete a course and will even receive a kiddie driver's license at the end.
Radio station Q98 is sponsoring another diaper derby this year. This is a fun competition for parents to do several baby related tasks as fast as they can. It is a lot of fun, both for the competitors and for the people watching.
Friends of the Skateparks Foundation will sponsor the Valley VW Street Style Skateboarding Open on Saturday, Sept. 21. This is an amateur skateboarding contest and fundraiser. Money from this event will go to build free public skateparks. More than $5,000 in cash and prizes will be given away. Specials guests Keelan Dadd, Lenny Rivas and Boo Johnson will perform as well. The street-style course will contain obstacles like stairs, benches and picnic tables. There is a $5 spectator fee for this event, but it includes entry to the fair. For more information or to register, visit www.valleyvwstreetstyle2013.eventbee.com. Skateboarding fans should check out the DaVille Skate Team Show, which runs throughout the fair.
Different theme nights keep things interesting while reaching out to specific groups in the community and supporting great causes.
September 18 is FUN, FUN, FUN Student Night. Students receive $2 off admission with a school discount coupon. September 19 is A Fair Fight Against Breast Cancer night at the Fair, with $1 of all admissions going to the Cape Fear Valley Breast Care Center. On Sunday, Sept. 22, bring your church bulletin and receive $3 off admission. One bulletin per person is required for this discount.
While some events run on specific days, there are many fun features that run daily throughout the fair. These include the interactive petting farm, Vintage World War II Halftrack Rides, helicopter rides, pedal car racing, the baby chick display, WKML with Larry K broadcasting, Fred Anderson Nissan Entertainment stage with continuous local entertainment, toddler driving school, chainsaw carving demonstrations and exhibits, farmer for a day expo, pony rides, eurobungy trampoline, home, craft and agricultural exhibits and the Goodness Grows in North Carolina contest and the Kidsville News! Truman Entertainment Stage.
Exhibits include arts and crafts, clothings, canned fruits and vegetables, jams and jellies, perishables and baked goods and more.
A fair just isn't a fair without food and music, and there will be plenty of both this year. In fact, make sure you check out the Kidsville News! stage while you are there. Look for a variety of activities and performers including a Magic Show on Saturday, Sept. 14.
If this all sounds like a great time, it is, but Bullard noted that a lot of work goes into putting an event like this together.
"We have a lot of people and organizations involved in putting the fair together. One of my favorite things is working with all the people who make it happen, for the vendors to the attractions and rides to the local people at places like the Cumberland County Schools system and the Farm Bureau. There are a lot of people committed to making this event a success," said Bullard. "By far, though, my favorite part of the fair is seeing it all fall into place and watching the 50,000 to 60,000 smiling faces that come through the fair and have a great time.
The fair opens Sept. 12 and runs from 5-10 p.m.; on Sept. 13 and 20 it will be open from 5-10 p.m.; on Sept. 14 and 21 the hours are 1-10 p.m.; Sept. 15 and 22 the fair will be open from 1-9 p.m.; and Sept. 16 – 19, the hours are 5-10 p.m. The $12 admission price includes unlimited carnival rides and entertainment Monday-Thursday. Children under the age of 2 get in free. Admission at the gate is $5 Friday-Sunday. Wristbands are available. $10 advance tickets are available at the Crown Box Office and local Kangaroo stores. Find out more at Cumberlandcountyfair.org.