Put John Poulos, Pete Skenteris and Tony Kotsopoulos in a room and start asking about the World's Largest Spaghetti Dinner and Greek Pastry Sale that takes place at the Hellenic Center every year and it becomes apparent pretty quickly that the spaghetti dinner is about a lot more than pasta and pastries.
Never mind that the event serves up between 12,000 and 13,000 meals each year, and that's just in 10 short hours. Never mind that it takes 4,000 lbs. of dry pasta, 900 gallons of meat sauce, 400 lbs. of grated cheese and takes three days and more than 40 volunteers, including 15 or so cooks to pull it off. For these three men the spaghetti dinner is about gratitude and tradition.
Sure, 55 years ago it was a creative way to raise money that the church returned to the community by supporting local nonprofits. That part has not changed. And this year, on Nov. 20, from 10 a.m. to 8 p.m., the church will serve up mounds of delicious pasta again — and donate proceeds to local nonprofits. But it has become something more.
"In some ways, it seems like it is not about the spaghetti anymore," said Poulos. "We are thankful that people come year after year to support us and buy our spaghetti. We are very fortunate."
When the traffic at the Hellenic Center is backed up and volunteers are working frantically to get the orders out, it can be a lot to take in. The community support is impressive and something that is not taken for granted. Seeing the cars lined up all the way down the street and the smiling faces as people drive away with spaghetti and Greek pastries makes the days of prepping, baking and boiling worth it. Poulos, Skenteris and Kotsopoulos noted how truly humbling it is to get such amazing support.
"We get calls at the church all year asking when is the next spaghetti dinner," said Skenteris. "It is amazing to us that people come from all over Cumberland County to get our spaghetti. We are honored."
Kotsopoulos is the head chef each year and has been a part of the event since 1989, although he didn't take over until 1993. He's been doing this long enough that it is pretty much down to a science.
"We make sure to always use the same sources for our ingredients every single year," said Kotsopoulos. "There is no room for error or experimentation here. Our reputation is on the line and we can't afford to take chances."
In fact, he has turned down generous offers from people who wanted to donate ingredients so that he could protect the integrity of the recipe.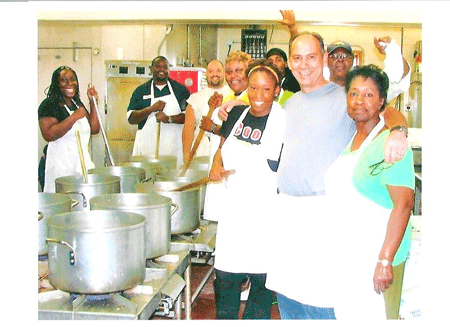 While the community enjoys the food each year, the volunteers gain something, too. The congregation enjoys its ability to give back to the community (and the congregation of Sts. Constantine & Helen give generously), but more importantly, they find working hard for a common goal strengthens the congregation.
"People who work together stay together," said Poulos.
"It is good for us to work hard at this every year," said Skenteris. "We need to teach the next generation so this tradition will continue."
Although he has no plans to hand over his spoon any time soon, Kotsopoulos is already on the look out for a protégé. "I'm looking for someone to train in the next 10 years, someone who will pick up this tradition and carry it on."
Tickets are available at the door for $6.50. The Hellenic Center is located at 614 Oakridge Ave. Call 484-8925 for more information.
Photo: Tony Kotsopoulos and 40 or so volunteers spend several days cooking more than 12,000 spaghetti meals each year.