"No space of regret can make amends for one life's opportunity misused" —Charles Dickens.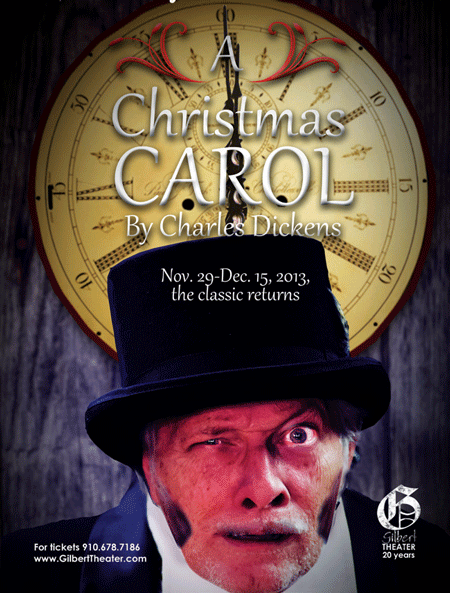 Don't miss this annual opportunity to experience the joy and warmth of community spirit. Kick off the holiday season at Fayetteville's candlelit Dickens celebration and then catch A Christmas Carol, which opens at the Gilbert, Nov. 29.
Local thespian and arts lover, Joyce Lipe recalled, "My husband Chuck and I took part in the Fayetteville Arts Council A Dicken's Holiday each year, dressing in costumes of that period as we strolled along Hay Street getting caught up in the beauty of candle light and Christmas decorations. A Christmas Carol, which I narrated for six consecutive seasons became a part of the Gilbert season in its early years. It is still a central part of each Gilbert season. Thus, the dream continues and takes shape and the inspiration of early founders and participants continues to shine."
This year's production is an adaptation by director Christopher Schario, who has been Executive/Artistic Director of The Public Theatre, Lewiston, Maine since 1993. His adaptation of A Christmas Carol, published by Dramatists Play Service in 1996, has enjoyed successful productions at professional and amateur theatres. One interesting element of this adaptation is the on stage use of a foley, a person who creates or alters sounds, using such tools as a thunder sheet, wind machine, gongs, etc. "In the fall of 1993 I was looking for a version of A Christmas Carol for my theatre company. Most adaptations of the story required such huge casts, lavish sets and special effects, that we couldn't afford to produce them. I always felt that the charm of the story was in its simplicity, so I locked myself in our theatre with six actors and a fiddler, and we invented this version, that simply and directly tells the story of the redemption of a human soul. Dickens' story teaches us that when we peel aside the suffocating veil of materialism, we can see the true wealth life offers through the appreciation and love of your fellow man," Schario explained.
Some may say, "Bah, Humbug!" However, many wish that the joy and generosity of the season would continue to shine throughout the year eliminating the need for annual stories about the search for a new home for "The Bicycle Man" or pleas for help for other charitable organizations such as The American Red Cross, which had its annual fundraiser, The Red & White Gala, recently. Dickens' Marley said it best, "Business! Mankind was my business; charity, mercy, forbearance, and benevolence, were all my business."The play follows the ever-powerful story of Scrooge, a lonely miser, who, through the help of spirits and visions from his past, present and future, finds a second chance to become a loving, generous human being. "And it was always said of him, that he knew how to keep Christmas well, if any man alive possessed the knowledge. May that be truly said of us, and all of us!" And so, as Tiny Tim observed, "God bless Us, Every One!"
A Christmas Carol runs Nov. 29 through Dec. 15, Friday – Sunday. Friday and Saturdays at 8 p.m. and Saturdays and Sundays at 2 p.m. Don't miss this traditional holiday production. Rediscover the magic of this timeless tale, when seven actors and a fiddler bring Charles Dickens' classic story to life in a way you've never imagined and will never forget. Tickets are $15/$13 for students, seniors and military. For further information contact the box office at 678-7186 or email the Gilbert Theater at boxoffice@gilberttheater.com.
Photo: Gilbert Theater's A Christmas Carol is a holiday favorite and a local tradition. The show runs Nov. 29 - Dec. 15.