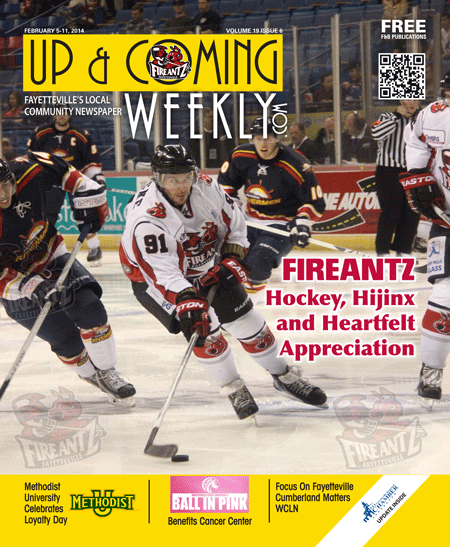 FireAntz fans have a lot to look forward to this month as the hockey team readies for a series of fun-filled nights. Hockey, hijinx and heartfelt apprecia-tion come together at the rink with activi-ties that fans are sure to love. Don't miss the 2nd Annual Weiner Dog Race Night on Feb. 7. "It is really a lot of fun," said Jason Fleming, director of media/sales. "This was a big success last year and we already have more entries for this event than we did for last year's."
It takes two people per dog to make this race work. At the first intermission every-one, including the canines, head on to the ice. One person stands at the starting line with the four-legged contestant. The other person heads to the finish line. When the race starts, the person at the finish line does their best to entice the pooch in their direction. The first three dogs to finish win a prize.
Fleming says that the race is a lot of fun for the dogs and the people, but there is still more going on at this particular game. "We also have a pet adoption going on that night where Fayetteville Animal Protection Society comes out. Last year they brought 15 or so dogs and they all got adopted."
The next night, Feb. 8, is Military Appreciation Night and Race Night and is sponsored by Folds of Honor. Not only is this a chance to celebrate local heroes and their families, there will be a jersey auction at the end of the evening.
"This is always a really fun night. We have big crowds that average 6,000 to 7,000 on military appreciation nights," said Fleming. "We spotlight some of the drag race guys and some of them bring their cars. We set them up in the VIP parking lot. Some of the military units come out and they bring some of their equipment. People can check that out, too. The cars and military things are always popular with the fans."
The doors open at 6 p.m., which gives everyone plenty of time to check out the cars and equipment before the game starts at 7 p.m.
Folds of Honor, which is affiliated with Budweiser and is the
sponsor of the game, has strong ties to the military and works hard to support soldiers and their families. The foundation was founded by Maj. Dan Rooney. Rooney is a former F-16 pilot, golf course owner and PGA Professional. The Folds of Honor website www.foldsofhonor.org showcases the many ways the organization works to support service members and their families: "Through scholarships and other assistance, we give back to the spouses and children of soldiers killed or disabled in service to our country. We provide healing, hope and an opportu-nity for dreams to be realized ...with the support of people like you. We feel this is our duty as citizens of the greatest country in the world."
Feb. 11 is a great chance to mix things up midweek and take advantage of $2 Tuesday. Groups of 10 or more can call the office and get tickets for just $2. It's a fun wholesome way to spend a weeknight with friends and family — and it's affordable.
The game on Feb. 22 promises to be something special. Star Wars fans should mark the calendar now for this fun themed night. "There is a local group called the 501st Legion of Storm Troopers. They are really cool and have invested in authentic Star Wars costumes. We'll have them at the game that night," said Fleming. "They come out deep — like 30-40 different characters.
Throughout the game the storm troopers walk around and interact with the crowd and are available for pictures. The highlight of the night, though, is in-termission. "There is an amazing light saber duel at intermission," said Fleming. "In the past we've had Darth Vader versus Luke fighting on the ice. They do a great job with the choreography and the crowd loves it."
Star Wars Night is such a favorite that the FireAntz team will wear specially designed Star Wars themed jerseys during the game and auction them off at the end of the night. "These are really, really cool jerseys. This is my favorite of the 60 we have done since I have been here in the last ten years," said Fleming. "We put a Darth Vader helmet on our logo and his stick looks like a light saber."
The FireAntz go out of their way to make every home game a fun and com-munity-friendly event. They reach out to various groups, support local causes and try to make sure that everyone who shows up for one of their games has a good time. While all these extras are part of what makes them such a special part of the community entertainment scene, local fans also expect a good season from the team.
This season hasn't been without challenges. The team took on a new coach and several new players this year. Which, in the long run, Flem-ing believes will be a good thing. "It takes a little while to get to know one another and get that cohesiveness on the ice — and we have done that. Everything is looking good and we are moving forward."
The regular season ends March 22. There are 10 homes games remain-ing. "We are battling through injuries but still playing well," said Fleming. "We are in the middle of the pack but we are pushing for the play-offs. The parity in the league now is really good. The competition is great. We are looking for a playoff seat. There is still a lot of hockey left to be played, so there will be moving in the standings, but we are going to keep playing our best and see where this season takes us."
Find out more about the FireAntz at www.FireAntzhockey.com or call the office at 321-0123 for information and tickets.
Photo: FireAntz games are about more than hockey. They are also about having fun and supporting the community.