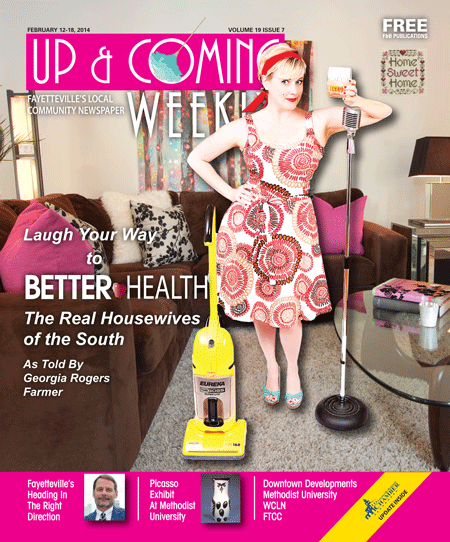 The Real Housewives of television fame have nothing on Georgia Rogers Farmer when it comes to entertaining. Farmer headlined Better Health's Annual Evening at the Theater last year and was such a hit that she's been invited back to perform at the fundraiser again on Feb. 22.
A singer, actress and variety show performer, Farmer has a spot-on delivery as well as remarkable sense of humor. The fact that she loves singing and performing helps, too.
"I started singing when I was really young. I have always loved to sing," said Farmer. "I got into musical theater after college. I stumbled on cabarets when I worked on a cruise ship 14 years ago. They were looking for someone to fill in at the last minute, so I was like 'well, I'll do it.' That is how the whole cabaret thing got started with me. It was really fun."
The variety and freedom that a cabaret show offers the performer is perfect for Farmer. This form of theatrical entertainment, consisting mainly of political satire in the form of skits, songs and improvisations, provides great opportunities to engage the audience, which is something Farmer loves to do.
"I always make crafts and prizes for the audience. I make stuff that is really fun," said Farmer. "I always enjoy this gig. I did it last year and there are three musicians who played that I had never met until I rehearsed with them. They are great — incredible. That is very exciting for me. I was very nervous last year because I am used to playing with the same people. It was perfect. They all really played fantastically. The band includes Steve Menendez on piano and Steve Boletchek on bass."
"We are out of our minds with excitement," said Robin Sledge, program manager and director of exercise programs and Eat Smart Move More. "We know how funny and talented she is. I went last year and fell in love with her act."
One of Sledge's favorite bits was a number about a meek little mild girl who finds the perfect place to live. "She loves it because it is so calm and sedate and it even has a window seat where she can sit and read," said Sledge.
"Then an opera singer moves in downstairs so she switches to operatic voice. The meek girl starts talking about the opera singer and goes back and forth between them switching voices flawlessly. Then a jazz singer moved in upstairs. She juggled all three back and forth between the three voices seamlessly."
Last year's performance also included a song about bacon. "She came out into the audience with a tray of bacon cupcakes and started handing them out," said Sledge. "She is so funny and so talented. We all had the best time."
The theme this year is Real Housewives and it promises to be entertaining. Farmer took her inspiration from the Real Housewives television series. "I am a big fan of the real housewives, reality shows, which are ridiculous," said Farmer. "I though 'As much as I watch them, I am going to try to make it work.' I decided to take a shine to them and really bring it home and show what a real housewife does. It is more real reality. I thought it was a catchy title, though."
Better Health Executive Director Judy Klinck is excited to have Farmer back for a second performance. "Anyone who saw it last year will know why we are having her back. She has a variety of material and we wanted more. We are in a new venue this year at SkyView on Hay. We are excited about that but we are using the same format as last year. When guests arrive they will have hors d'oeuvres and drinks and
get to socialize for an hour. Then we watch the show, which is about an hour and we have dessert and coffee afterwards. It's a good variety show and that is one of my favorite kinds of entertainment. We don't have this kind of entertainment in our area. I think this a unique opportunity for a fun night out."
Klinck credits Cassandra Vallery for bringing such a fun show to the area. "We really thank Cassandra Vallery, who has been producer of our shows for seven years and has been magnificent in her part in the show," said Klinck. "She is helping in several ways. We owe her everything for this show being so wonderful. Georgia is amazing but it was Cassandra who introduced us to her."
This event is the main fundraiser for Better Health and the proceeds support many of the programs at the organization. Like the name implies, Better Health's mission is "to provide for the unmet healthcare needs of Cumberland County residents through assistance, referral, and education."
Founded in 1958, Better Health offers a variety of programs to the public free of charge. The Emergency Medical Assistance program offers help with prescription medications, tooth extractions, orthotics, medical equipment, gasoline assistence for out of town medical appointments and disposable incontinence supplies, ostomy supplies, testing strips, syringes and more for qualified clients. Medical equipment loans are available for free for up to six months. Items include walkers, canes and crutches, wheelchairs, bathroom aids, bedside commodes and hoya lifts. Hospital beds or scooters are not available. Diabetes services include diabetes monitoring clinics with education sessions three times/week, take Charge of Diabetes 7-week self-management class, glucometer training, exercise classes for diabetics, diabetes and blood pressure screening, diabetic supplies (limited), foot care clinics, vision screening for eye disease and medication review. The Eat Smart Move More childhood obesity prevention program is "A four part educational program to provide children with the skills to improve eating and physical activity behaviors to achieve a healthy weight. Eat Smart, Move More is offered in schools, churches, summer programs and other groups at no charge. The program consists of four sessions of approximately 45 minutes each, including a healthy snack.
Better Health is a United Way agency. Find out more about this organization at www.betterhealthcc.org or call 483-7534..