The Fayetteville Police and Fire Departments have taken up the mission to keep the residents of the City of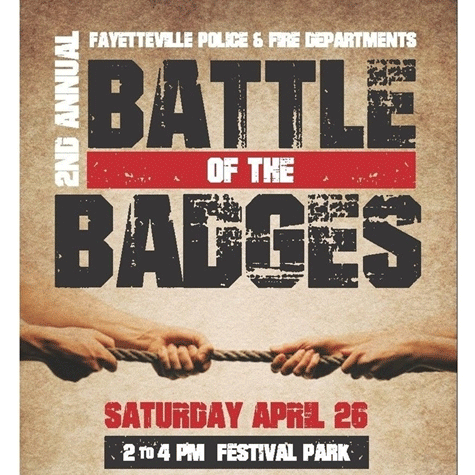 Fayetteville as safe and secure as possible. They are always no farther away than a call to 9-1-1 and can be counted on to come to our aid at any time, day or night. The men and women that make up these departments put their lives on the line every day in an effort to protect us.
In the line of duty, situations often arise where the two, usually separate, departments have to work together to properly serve the public. As a result of this, the two departments have developed a camaraderie and bond between them; almost like siblings. As with any other pair of siblings, a rivalry can also form out of that closeness.
On April 26 from 12 to 4 p.m., Festival Park and The Dogwood Festival will play host to a competition between the two departments that has been dubbed The Battle of the Badges. Teams from each department compete in a series of challenges that test both squads physically, mentally and emotionally. Plates of chicken wings will be devoured, an obstacle course be conquered and the teams will go toe-to-toe in a match-up of strength and endurance that is the tug-of-war.
The event last year saw the Police Department escape with victory by the narrowest of margins. This year, the Fire Department will try to even the score with the Police Department. In the end, the team that is left standing will be named champion and have bragging rights for 2014.
Assistant Chief Richard Bradshaw of the Fayetteville Fire Department said that he expects the Battle of the Badges to, "showcase a lot of what we have to offer our community. We hope that the community recognizes what fine public safety organizations they have."
When asked about a prediction for the event, Bradshaw was clear about his expectations, "The Fire Department is going to win. I have a group of very dedicated individuals that take pride in, and feel the pressure of, this competition… We want to walk away from the park that afternoon being the victor. I want their chief to have to cater to my chief. There is a lot of pride on the line. I want our guys to be able to say we won. We lost by one point last year due to a piece of equipment breaking; we feel like we owe them one."
In addition to the competition, each department will have some of their best equipment on display for the community to see and interact with; Ladder trucks, SWAT gear and much more will all be onsite. Bradshaw said that the city will have on display, "some of the finest equipment in the state of North Carolina."
The Fayetteville Police Department band, The Rollerz, will also perform for those in attendance.
Bradshaw summed up the event by saying, "We are both two very professional organizations. We hope the community sees that in us by our actions in this charity event. We all get along very well, it is all for fun and a good cause."