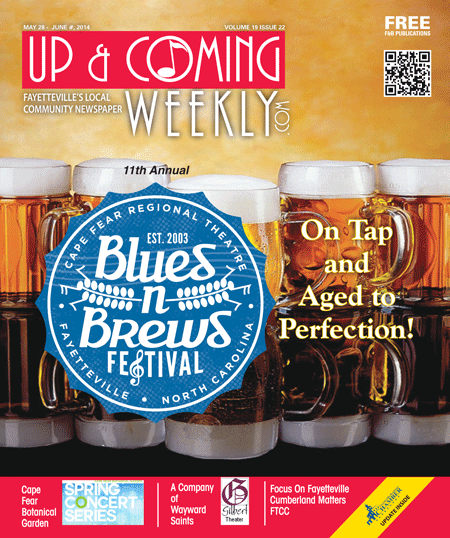 If you follow Ben Franklin's philosophy, then you have probably heard the phrase that "Beer is proof that God loves us and wants us to be happy." If that is the case, then you are not going to want to miss the Blues-n-Brews Festival on Saturday June 7 at Festival Park.
The festival is the only fundraiser held each year by the CFRT. The funds raised by this fun and musical event are used to stage the award-winning professional shows produced by the theatre each season. So while there is a very serious reason for this annual venture, the day itself promises to be anything but serious, with great food, music, games and beer on tap.
Co-chaired by Jenny Beaver Deviere and Karen Tinsdale, the festival will feature close to 60 breweries/beer distributors highlighting some of their top beers. The price of beer tasting is included in the ticket price, with each ticket holder receiving a glass specifically for tasting. Again this year, Dirtbag Ale, a local micro brewer operated by three soldiers, will be on hand to showcase beer made right here in the community, of course they will be joined by bigger brewers like The Mash House and Huske Hardware House.
Deviere pointed out that the festival has grown in size since its move from Campbellton Landing, and now in addition to lines of brewers, there are also lines of participants waiting to enter the gate when the festival opens at 5 p.m. If you want to bypass the lines and get a jump on tasting, you can opt for a VIP
ticket, which will get you in the door at 4 p.m. VIP tickets inlcude early admission and a one-hour private beer sampling, the opportunity to judge the beer tasting contest to name the best of show, a catered dinner, snacks throughout the evening and a private lawn for listening to the music. The VIP area is open only to those 21 years of age and older. No children are allowed in the area. Deviere noted that while children are not prohibited from attending, it is designed to be an adult experience.
New this year is a game area where, for a small fee, attendees can play corn hole and a "beer pong"-like game for prizes. For those not purchasing VIP tickets, there will be food vendors on hand. No outside food or alcohol can be brought into the park.
The evening would not be complete without the Blues, and the three bands slated to play will keep the park rocking. Fayetteville's own Ethan Hanson will take a turn on stage, followed by the Fat Bastard Blues Band, with the Holy Ghost Tent Revival wrapping the evening up.
Tickets, which can be purchased in advance at www.cfrt.org, are $30, which includes tasting or $15 non-drinkers. VIP tickets are $60.