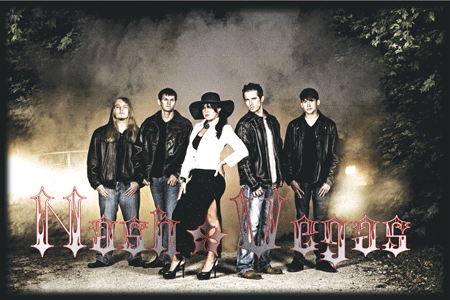 Nash Vegas, a band based out of Clayton, N.C., is performing at It'z Entertainment City complex on Legend Road in Fayetteville on July 4, at 9 p.m.
Nash Vegas came together in August of 2012 and has taken North Carolina by storm. They're known as one of the most high-energy and high-impact bands in North Carolina. The band members are passion-driven and collectively motivated towards one goal: to make sure that each audience experiences the backwoods and real country, the entertainment of Vegas in today's hits and the soul behind classic rock. The playlist includes every genre and lives up to their name Vegas. This will be Nash Vegas' first plugged-in show ever in Fayetteville.
The bands' members all have different backgrounds, but each of their paths brought them together. Christie Clayton, lead female vocalist from Willow Spring, N.C., started performing concerts in her kitchen at the age of 3, to Patsy Cline tapes. She first sensed her passion when she was 16, when she was asked to perform in front of a few thousand people. Jamie Wood, lead male vocalist, from Coats, N.C., was born into music. With his hands on a guitar since he could walk, his grandfather taught him the guitar basics at the age of 11. He played the drums in a few church bands but soon learned that the guitar and vocals were his passion. His inspiration is his Granddad, and the day he passed away was the day he asked to join the band, knowing it was where he needed to be. Daniel Hamilton, lead guitar and band leader from McGee's Crossroads, N.C., started this band in hopes that one day creating the ultimate team of musicians, each with open minds, humility, and such drive for their craft that they would become so widely known, not just as a group creating music, but a team creating something unforgettable. Nate Williams, bass guitarist from Clinton, N.C., first started playing in bands at the age of 15, when playing on Halloween night at Broadway at the Beach in South Carolina, he knew he was meant to do this for a living. Andrew Stephenson, drummer and rhythm guitarist from McGee's Crossroads, N.C., is the18-year-old prodigy. Receiving his first guitar at the age of 12, he learned music was his passion. Stephenson is also well versed in piano, bass, saxophone and violin but blows the minds of people when he takes a seat at the drums.
They've only been playing together for 18 months but have already performed for huge audiences totaling more than 15,000. Some of their venues include Norris Creek Ampitheatre in Louisburg where they headlined Jason Aldean and Brad Paisley's "Official on Tour Deejay Silver" and "The LowCash Cowboys." This fall they will headline North Carolina's Mule Days Street Dance.
It only seems fitting for such a band to help celebrate our country's independence. So mark your calendars for a free Nash Vegas Concert on July 4, 9 p.m. at It'Z Entertainment City's outdoor patio.